Anthony Alfredo Enters Kansas ARCA Finale With MDM Motorsports
Press Release
•
updated: Oct 10, 2018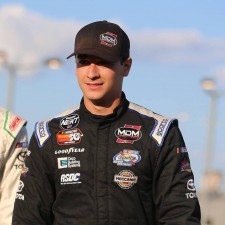 KANSAS CITY, Kan., October 10, 2018 (Newswire.com) - Anthony Alfredo will climb into his MDM Motorsports Toyota for the 2018 ARCA Racing Series season finale, the Kansas ARCA 150 at Kansas Speedway on Friday, October 19.
Alfredo will be behind the wheel of the Ceco Building Systems, Oxford Energy, Mechanic Shop MDM Motorsports Toyota No. 40 for the race, which will be his second start in the ARCA Series and his first on a 1.5-mile superspeedway.
A student at UNC-Charlotte, the easygoing Alfredo is anxious to hit the track following a season in NASCAR's K&N Pro Series East in which he finished fifth in the championship standings and won at South Boston Speedway earlier in the year.
"I am very excited to head to Kansas for my second ARCA race and first start on a 1.5-mile race track," Alfredo said with his trademark smile. "First, I want to thank those who have made this possible for me. I'm pumped to chase one more win now that the K&N season is over. After racing at Gateway in the ARCA car, I believe I have a better feel for them. I learned that they are comparable to the K&N cars. I also learned a lot about aerodynamics in traffic at places like Dover, so I can apply that as well. Knowing the success MDM has had in the ARCA series this year, I am going in with confidence that I will have a car to run up front. Plus, I'll be able to lean on my teammates. I'm ready to get to the track and go racing!"
The Kansas ARCA 150 at Kansas Speedway is scheduled for a 7:30 p.m. CST start time on Friday, October 19. The race will be televised live on Fox Sports 2.
About Anthony:
Career Highlights:
2015 Win at Tri-County Motor Speedway in 8th race in a full-size car
2016 Win at Greenville-Pickens Speedway in Southeast Limited Late Model Pro Division
2016 Qualified on the front row at Myrtle Beach 400
2016 Southeast Limited Late Model Series Pro Division Champion
2017 CARS Tour Finished 2nd in points standing (2 wins, 8 top 5's and 11 top 10's) racing for Dale Earnhardt Jr., JR Motorsports.
2017 - Fall Brawl 200 Winner at Hickory Motor Speedway
RACING FOR A CAUSE:
Anthony Alfredo and AFA Motorsports have recently partnered with JDRF to help them get the word out about Type 1 Diabetes. T1D is a completely different disease than Type 2 Diabetes and is often misunderstood. Anthony will be using his racing program to help educate the public about T1D and help raise funding for research.
Follow Anthony:
Website: https://anthonyalfredo.com
Facebook: https://www.facebook.com/anthonyalfredoracing
Twitter: https://twitter.com/anthonyfalfredo?lang=en
Instagram: https://www.instagram.com/anthonyfalfredo
Business/Sponsorship Inquiries: Robert Alfredo – Email: sdc87@comcast.net
Media/Sponsorship Contact: Rod Wortham – Race Face Brand Development
Email: Rod@racefacebd.com • Ph: (727) 999-2628
Source: Race Face Brand Development on behalf of MDM Motorsports
Related Media