Announcing BetterBot's New CRO: Tyler Hansen
Press Release
•
updated: Sep 2, 2021
Hansen to focus on continued revenue growth with BetterBot's many partners and channels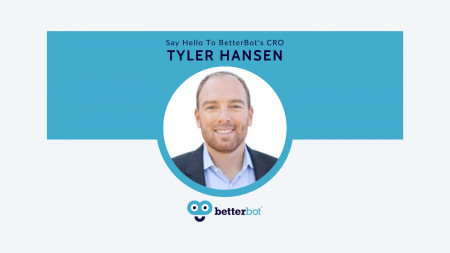 ATLANTA, September 2, 2021 (Newswire.com) - Multifamily's most adopted bot automation technology announced today the addition of Tyler Hansen to the BetterBot executive team. "Tyler's background scaling sales teams as well as his partner and channel expertise will help us grow market share at an even faster pace," said Zlatko Bogoevski, CEO and co-founder of BetterBot, Inc.
Hansen joins a stable of seasoned industry executives such as Robert Turnbull, Brenda Giloth and Heather Anderson who have helped grow BetterBot from the first day of business. With their experience combined with Tyler's roadmap to growth, BetterBot expects to further solidify its pole position as Multifamily's dominant bot and automation solution.
"Tyler has that infectious, can-do, highly focused personality that motivates everyone around him," said Robert Turnbull, President, COO and co-founder of BetterBot. "In my 22 years in the Multifamily industry, I've seen a handful of talented sales leaders, of which Tyler is no doubt one of them. He'll help us continue to do great things at BetterBot."
Hansen has a varied background and consistent track record at his previous companies. Most recently, he helped grow CheckpointID, which was sold to MRI. While there, Hansen assisted the executive and sales teams in continuing significant growth while ensuring a transition to the MRI ecosystem. Prior to CheckpointID, Hansen managed sales at Zumper, Luxer One, and Intuit. He's based in San Francisco, California, with his wife Mystie and newborn son Jomie.
"The team at BetterBot has done an exceptional job building a platform to give managers and leasing agents their time back. The value of guided-conversation technology for apartment renters has been proven and refined over the past few years and there's no limit to what we can accomplish with our industry partners," said Tyler.
In parallel to Tyler Hansen joining the BetterBot team, the company has recently added a new product offering to its suite of services: BetterBot For Leads — the newest way to automate the leasing process. BetterBot for Leads intercepts ILS leads and converts them into high-valued conversations that turn into tours and, ultimately, result in leases. Tyler also noted, "This product will not only highlight the versatility of the BetterBot platform, but will also showcase the range of partnerships that BetterBot has developed in the industry. As the only marketing automation solution to be partnered directly with the ILSs, it will further set BetterBot as the leading solution in this space."
Source: BetterBot