Angelena's Documentary Feature Film Officially Nominated for World Music & Independent Film Festival
Press Release
-
updated: Aug 28, 2017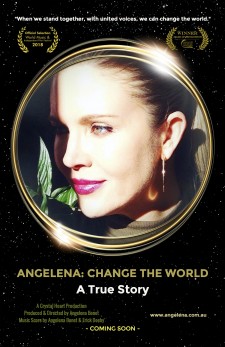 SYDNEY, August 28, 2017 (Newswire.com) - Angelena Bonet, of Crystal Heart Productions, has been officially selected for the prestigious World Music & Independent Film Festival (WMIFF). Angelena Bonet's debut documentary feature, Angelena: Change The World has been nominated for two WMIFF awards in the Women Filmmaker, First Director and Best Documentary Feature categories. Chronicling her life to the present-day, which she produced in its entirety, her biopic film features raw footage of her life including her first television appearance at the age of four, to her time as an Australian supermodel and now a singer/songwriter and global women's rights activist. Angelena co-wrote the musical score with her late fiancé, Erick Deeby in 2007 after his sudden and tragic passing. She wrote the lyrics and melody to the instrumentals he had written for her during her time of grief and has shared their special project as the film's soundtrack. Angelena's documentary film has already won an award of recognition in the Impact DOCS Awards.
"I am so excited to receive this award because it is such an honor, which I am truly grateful for! It was definitely a labor of love but once again, like the album, it had a very intense healing effect on me. I got to look at not just the violent attack that I experienced in 2012 or the passing of my beloved, Erick, in 2007 but also the magical times and how this journey all began. With the global women's rights activism that I am doing, it all began in 2012. As some of you may be aware, I was a victim of a violent crime. I had just returned to Australia after living in Canada and unbeknownst to me, I had been lured and set up in a situation where I was to be kidnapped and murdered by someone that I knew and trusted. It's a miracle that I am here, it's a miracle that I survived. I was gang raped and it has changed me, of course, and it has definitely changed the way I see the world and how I also see women and the compassion I have for all of us that have suffered and what we can be potentially exposed to. That is how I came across One Billion Rising, which is part of the V-Day Organization that has been started by the amazing Broadway playwright of the Vagina Monologues, Eve Ensler. She is a force to be reckoned with and definitely not shy and feels just as passionate as I do about ending this despicable human rights violation, which is exactly what it is."
In 2009, June Daguiso, a resident of Virginia, began building what would become the World Music & Independent Film Festival, "My mission and objective was to create a platform not only for the D.C., Maryland, and Virginia indie filmmakers, but also to provide a platform of achievements for international cinema artists." Since its early beginnings in 2010, WMIFF has continued promoting filmmakers and musicians to a global audience. We are dedicated to building a global film community and supporting emerging filmmakers. WMIFF has continued to strive and improve on its mission to promote and provide opportunities for artists of all genres to hone their skills and gain access to opportunities via our events, promotions, and networking opportunities.
One of the most enjoyable side benefits of a WMIFF nomination is the annual Awards and Gala event that WMIFF host for nominees in all categories and their guests. This gives all the nominees the opportunity to network with other industry professionals and to view others creations. June Daguiso expects this year's edition, being held on Jan. 29 through Feb. 3, 2018, to be as warm and memorable as previous years. Now in their ninth year, they are always raising the bar in the type of experiences they offer. This year the film festival will be held on a 5-Night cruise to the Caribbean, and have partnered with MyOneCruise.com to give nominees exclusive access to other events occurring on the cruise including the film screening and the Gala and awarding. 
For more information call Crystal Heart Productions on +61 481761981 or Twitter @angelenabonet or visit Crystal Heart Productions website at www.crystalheartproductions.com.
Source: Crystal Heart Productions
Share:
---
Categories: Movies, Multi-Media, Music, Awards, Agents and Representation, Arts and Entertainment
Tags: activist, actress, award winning, biographical, biopic, documentary, film, filmmaker, music, producer
---