Angelena to 'Change the World' as She Wins Award in Impact DOCS Awards Competition
Press Release
-
updated: Aug 14, 2017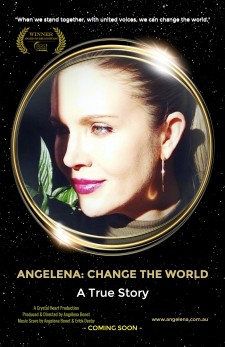 Sydney, Australia, August 14, 2017 (Newswire.com) - Angelena Bonet, CEO & Founder of Crystal Heart Productions, has won a prestigious Award of Recognition from The Impact DOCS Awards Competition. The award was given for Angelena Bonet's debut documentary feature, Angelena: Change The World, chronicling her life to the present day, which she produced in its entirety. Angelena: Change The World features raw footage of her life including her first television appearance at the age of four, to her time as an Australian supermodel and now a global women's rights activist. She co-wrote the musical score with her late fiancé in 2007 and has shared their special project as the film's soundtrack. Angelena wrote the lyrics and melody to his instrumentals during her time of grief and include Tragic Fairytale, On My Way and Change The World.
"I am honored and just so excited to receive this award, it truly is a dream come true! It was definitely a labor of love but once again, like the album, it had a very intense healing effect on me. I got to look at not just the violent attack that I experienced in 2012 or the passing of my beloved, Erick, but also the magical times and how this journey all began and how I did become a model or how I was dancing in film clips or how did I end up in movies? I have been training for this since I was tiny and have always loved the arts and have always enjoyed my life, really. So, I got to remember the beautiful times too, you know I think it's easy when you go through difficult times to get stuck in that moment when the lights seem to go out and you don't think you're ever going to get through it… and it's that process of getting better I guess. But then when you start to take a step back, as I did with the film, and get to see the whole big picture and you are just so grateful for all the amazing things that have happened and you see why you are doing what you're doing and what's driving this passion."
Impact DOCS recognizes film, television, videography and new media professionals who demonstrate exceptional achievement in craft and creativity, and those who produce standout entertainment or contribute to profound social change. Documentaries were received from 30 countries, including veteran award winning filmmakers and fresh new talent. Entries were judged by highly qualified and award winning professionals in the film and television industry. 
In winning an Impact DOCS award, Crystal Heart Productions joins the ranks of other high-profile winners of this internationally respected award including the Oscar winning director Louie Psihoyos for his 2016 Best of Show – Racing Extinction, Oscar winner Yael Melamede for (Dis)Honesty – The Truth About Lies, and Emmy Award winner Gerald Rafshoon for Endless Corridors narrated by Oscar winner Jeremy Irons, and many more.
Rick Prickett, who chairs Impact DOCS, had this to say about the latest winners: "The judges and I were simply blown away by the variety and immensely important documentaries we screened. Impact DOCS is not an easy award to win. Entries are received from around the world from powerhouse companies to remarkable new talent. Impact DOCS helps set the standard for craft and creativity as well as power catalysts for global change. The goal of Impact DOCS is to help winners achieve the recognition they deserve for their dedication and work."
Impact DOCS Awards is in its second year and is the newest member of the Global Film Awards (GFA) family of competitions who have been hosting competitions for 14 years. As one of the original trendsetting digital online competitions, GFA set the standard for this exciting new breed of film competitions. GFA's Accolade Competition was named by MovieMagazine "… as one of the top 25 festivals worth the entry fee." It is truly international in scope offering filmmakers from large powerhouses like Disney, The Weinstein Company, Discovery and Ridley Scott all the way to first time filmmakers and students, the opportunity to receive valuable feedback from an impartial judging panel comprised of highly qualified and award winning professionals in the industry. Often the first stop on the festival circuit, GFA award winners have gone on to win Oscars like the short doc "The Lady in Number Six" and "Mr. Hublot" as well as countless Emmys, Tellys and more. Information about the Impact DOCS Awards and a list of past and recent winners can be found at www.ImpactDocsAwards.com.
For more information call Angelena Bonet on +61 481761981 or Twitter @angelenabonet or visit Crystal Heart Productions website at www.crystalheartproductions.com.
Contact:
Angelena Bonet
info@angelenabonet.com
http://www.angelenabonet.com
Tel. +61 481761981
Source: Crystal Heart Productions
Share:
---
Categories: Books, Movies, Music, Awards, Agents and Representation, Arts and Entertainment
Tags: activist, actress, award winning, biographical, biopic, documentary, film, music
---