Angelena Speaks Out on Violence Against Women at Australian Event
Press Release
•
updated: Sep 6, 2017
Women's Rights Global Revolution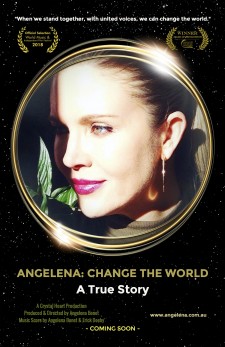 SYDNEY, Australia, September 6, 2017 (Newswire.com) - ​​​​​​​​​​​​​​​​​​​​​​​​​​​Angelena Bonet, award winning documentary filmmaker, has spoken out at the One Billion Rising Organization event at the Trades Union Hall in Sydney on Saturday, 2 September. The event was hosted by Tony Award winning playwright, activist and One Billion Rising (OBR) founder, Eve Ensler, and One Billion Rising Global Director, Monique Wilson, where they met with migrant women workers, local women's groups, and OBR activists.
Angelena spoke out on the violent crime that nearly took her life in May 2012 and for the injustices that many women on this planet have also experienced. She stressed the importance of coming together as one if strides are to be made in changing the world and ending violence against women. As a former Australian supermodel turned documentary filmmaker and global activist, Angelena is aligned with many women's rights non-profit organizations and also supports women and girls through her online journalistic program Heart Of The Matter and debut documentary feature film Angelena: Change The World. She states that "when we stand together, with united voices, we can change the world."
This all began for me in 2012. I was a victim of a violent crime by someone that I knew and trusted. I was almost murdered, gang raped and left for dead, but I'm not going to be silenced. I have to speak for myself, for all of us because this is so wrong on so many levels and unless we all come together as one and stand up and say this is not ok, nothing is going to change, is it? And this is how I came across One Billion Rising...

Angelena Bonet, CEO & Founder - Crystal Heart Productions
The OBR gathering in Sydney was an opportunity to hear about the deeper issues of violence against women in Australia in the context of interconnected issues such as poverty, migration, labor, climate, war, globalization. As the One Billion Rising theme around the world this year continues to be 'Solidarity Against The Exploitation Of Women' - the gathering was an opportunity to also deepen the conversation about building, strengthening and escalating local and global solidarity.
One Billion Rising is the biggest mass action to end violence against women in human history. The campaign, launched on Valentine's Day 2012, began as a call to action based on the staggering statistic that 1 in 3 women on the planet will be beaten or raped during her lifetime. With the world population at 7 billion, this adds up to more than one billion women and girls. On 14 February 2013, people across the world came together to express their outrage, strike, dance, and RISE in defiance of the injustices women suffer, demanding an end at last to violence against women.
On 14 February 2014, One Billion Rising for Justice focused on the issue of justice for all survivors of gender violence, and highlighted the impunity that lives at the intersection of poverty, racism, war, the plunder of the environment, capitalism, imperialism, and patriarchy. For the third year of the campaign, One Billion Rising's global coordinators chose the theme of "Revolution" as an escalation of the demand for justice, and to build upon the massive efforts of communities worldwide that also looked at the roots and causes of violence as part of their call for justice. On (or around) 14 February 2015, millions of activists in over 200 countries gathered to Rise for REVOLUTION, to change the paradigm, demand accountability, justice and systematic CHANGE. We are rising to show we are determined to create a new kind of consciousness – one where violence will be resisted until it is unthinkable. In 2016, the theme of Revolution continues with a call to focus on marginalized women and to bring national and international focus to their issues; to bring in new artistic energy; to amplify Revolution as a call for system change to end violence against women and girls; to call on people to rise for others, and not just for ourselves.
Eve Ensler (born May 25, 1953) is an American playwright, performer, feminist, and activist, best known for her play The Vagina Monologues. In 2006 Charles Isherwood of the New York Times called The Vagina Monologues "probably the most important piece of political theater of the last decade."
In 2011, Ensler was awarded the Isabelle Stevenson Award at the 65th Tony Awards, which recognizes an individual from the theater community who has made a substantial contribution of volunteered time and effort on behalf of humanitarian, social service, or charitable organizations. The 65th Annual Tony Awards was held on June 12, 2011 to recognize achievement in Broadway productions during the 2010–2011 season.
The day after the OBR gathering, on 3 September, Eve spoke at the Antidote Festival at the Sydney Opera House to share the stories of 20 years of the Vagina Revolution and all the activists who grew the movement theater to theater, college to college, town to town. She shares that "more than ever, we have to break the silence and call out the sexual predators, racists, earth murderers, war makers, corporate plunderers and explode the power of the V."
Source: Crystal Heart Productions
Related Media
Additional Links