Angelena Bonet Wins Awards in IndieFEST Film Awards
Angelena Bonet wins Awards of Recognition for her documentary feature film Angelena: Change The World (Liberation/Social Justice/Protest) and Original Song ("Tragic Fairytale").
Press Release
-
updated: Nov 3, 2017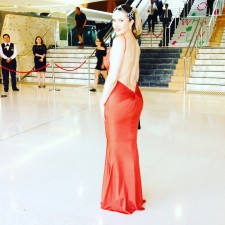 TORONTO, November 3, 2017 (Newswire.com) - Angelena Bonet, of Crystal Heart Productions has won two prestigious Awards of Recognition from the IndieFEST Film Awards. The awards were given for Angelena's debut documentary feature film Angelena: Change The World chronicling her life to the present day, which she produced and edited in its entirety. Angelena: Change The World features raw footage of her life, including her first television appearance at the age of four, her time as an Australian supermodel and now as a global women's rights activist. She co-wrote the musical score with her late fiancé, Erick Deeby, and has shared their special project as the film's soundtrack, which also won an award for Original Song (Tragic Fairytale). Angelena wrote the lyrics and melody to his instrumentals during her time of grief and include "Tragic Fairytale," "On My Way," and "Change The World," to name but a few.
"This is a huge honor to receive these two awards from the IndieFEST Film Awards! Words cannot describe how I feel right now, I honestly didn't expect any of this but it is just wonderful and I am cherishing every moment. This film was very difficult for me to make because I chronicled my whole life and basically put the pieces of myself back together. When I decided to be transparent and share my two tragedies and traumas by producing my documentary film I had no idea how healing the experience would be and where it would take me. If my late fiancé could see that I have just won an award for our song 'Tragic Fairytale' he would no doubt be just as happy and excited as I am!"
The IndieFEST Film Awards recognizes film, television, videography and new media professionals who demonstrate exceptional achievement in craft and creativity, and those who produce standout entertainment or contribute to profound social change. Entries are judged by highly qualified professionals in the film and television industry. Information about the IndieFEST and a list of recent winners can be found at www.theindiefest.com.
In winning an IndieFEST Film Award, Crystal Heart Productions joins the ranks of other high-profile winners of this internationally respected award including Liam Neeson as the narrator of Love Thy Nature, A Path Appears, a documentary featuring George Clooney and Blake Lively; Radical Grace, executive produced by Susan Sarandon; a searing expose, Davids and Goliath by Leon Lee and Touched with Fire starring Katie Holmes. Rick Prickett, who chairs The IndieFEST Film Awards, had this to say about the latest winners: "The IndieFEST is not an easy award to win. Entries are received from around the world from powerhouse companies to remarkable new talent. The IndieFEST helps set the standard for craft and creativity. The judges were pleased with the exceptional high quality of entries. The goal of The IndieFEST Film Awards is to help winners achieve the recognition they deserve."
For more information contact Angelena Bonet - info@angelenabonet.com, Twitter @angelenabonet or visit Crystal Heart Productions website at www.crystalheartproductions.com.
Source: Crystal Heart Productions
Share:
---
Categories: Movies, Music, Awards, Agents and Representation, Arts and Entertainment
Tags: award, Director, documentary, film festival, music, musical score, producer, singer
---