Angelena Bonet Wins Award in Accolade Global Film Competition
Angelena: Change The World also receives two nominations for Best Original Score and Best Original Song at IndieFEST Film Awards
Press Release
-
updated: Sep 19, 2017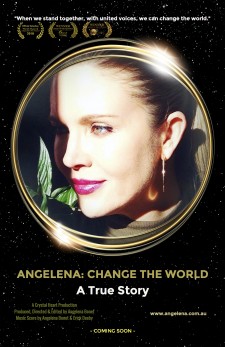 SYDNEY, September 19, 2017 (Newswire.com) - Angelena Bonet, of Crystal Heart Productions, has won a prestigious Award of Recognition from The Accolade Global Film Competition. The award was given for Angelena Bonet's debut documentary feature film, "Angelena: Change The World," chronicling her life to the present day, which she produced and edited in its entirety. Angelena: Change The World features raw footage of her life, including her first television appearance at the age of four, her time as an Australian supermodel and now as a global women's rights activist. She co-wrote the musical score with her late fiancé and has shared their special project as the film's soundtrack, which has just received two nominations in the IndieFEST Film Awards for Best Original Score and Best Original Song. Angelena wrote the lyrics and melody to his instrumentals during her time of grief and include "Tragic Fairytale," "On My Way," and "Change The World," to name but a few.
"I am just over the moon to receive my second Award of Recognition for my documentary feature! This has been a very long road and definitely a labor of love and I am truly humbled and grateful to receive this acknowledgment from The Accolade Global Film Competition. The film's musical score that I composed with my late fiancé has also just received two nominations from the IndieFEST Films Awards in the U.S. for Best Original Score and Best Original Song (Tragic Fairytale). The music was born out of Erick's sudden and unexpected passing in 2007 three days after we got engaged. He had written instrumental pieces of music for me which I was then going to write the lyrics and melody to once he had finished recording them. Out of nowhere, I was living my worst nightmare. So once I had written the first song, which was 'Tragic Fairytale,' it really just went from there. It was completely organic, I was in emotions that I could never have even imagined with the depth of the sadness and the grief and the pining and the everything. It was the right time to write the songs. I had said to myself that if I can't write the songs now with these emotions, then when can I? It was dedicated to Erick, for Erick who had spent his hours, nights and days, years tirelessly writing the instrumentals for me and this was my gift back to him. I realized by the second song that my heart was starting to transform and I was moving forward with my grief. As I was writing the songs and expressing my feelings and looking at my emotions, rather than being afraid of them it was helping me to heal. This truly is a magical time for me and after having survived two tragedies and Post-Traumatic Stress Disorder (PTSD) twice in the past ten years, I am now on a high and cherishing these special moments."
The Accolade recognizes film, television, videography and new media professionals who demonstrate exceptional achievement in craft and creativity, and those who produce standout entertainment or contribute to profound social change. Entries are judged by highly-qualified professionals in the film and television industry. Information about the Accolade and a list of recent winners can be found at www.accoladecompetition.org.
In winning an Accolade, Crystal Heart Productions joins the ranks of other high-profile winners of this internationally respected award including the Oscar-winning production of "The Lady in Number Six," by Malcolm Clarke, the very talented Dave Bossert of Disney for his short documentary, The Tunes Behind The Toons, Hollywood industry veteran Ron Howard for "When You Find Me," and Highwire Films Australia for their popular ABC TV series "twentysomething." Rick Prickett, who chairs The Accolade Global Film Competition, had this to say about the latest winners, "The Accolade is not an easy award to win. Entries are received from around the world from powerhouse companies to remarkable new talent. The Accolade helps set the standard for craft and creativity. The judges were pleased with the exceptionally high quality of entries. The goal of "The Accolade" is to help winners achieve the recognition they deserve."
For more information, call Crystal Heart Productions on +61 481761981 or Twitter @angelenabonet or visit Crystal Heart Productions website at www.crystalheartproductions.com.
Source: Crystal Heart Productions
Share:
---
Categories: Movies, Multi-Media, Music, Performers, Awards, Live Performance, Agents and Representation, Arts and Entertainment
Tags: award, Director, documentary, film, film festival, filmmaker, musical score, Producer, singer
---