AMPAC USA CEO Shares Insights About Focusing on Water Problems Today
Press Release
-
updated: Jan 16, 2019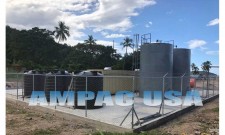 MONTCLAIR, Calif., January 16, 2019 (Newswire.com) - AMPAC USA CEO Sammy Farag has been working diligently each day to improve water technologies for every sector in the world. With an experience of 30 years in the field, he shares some of the greatest problems associated with water security in the country. The world is growing at a faster pace than ever and the upcoming water stress in several countries will handicap the economy all over the world.
This coupled with the unhealthy quality of water in first-world countries is a matter of concern over water security. Following the Flint water crisis, ventures have started across the country to avoid the problem from arising again. The problems, therefore, have numerous solutions and need attention from regulatory boards and municipalities alike. From replacement of older-generation pipes to better treatment facilities and conservation techniques, the U.S. today is in need of a better water system that regains the trust of its citizens which has been lost over the years due to crises. Discussed here are the possible ways of ensuring overall water security.
Description:
AMPAC USA has been on the field for 28 years working towards developing water technologies that support the goals of ventures and homes across the country. This experience has brought them at close proximity to a harsh reality of today – water. An irony in itself, the company realizes that the very product they develop high-end reverse osmosis purification systems for is soon barely going to be available. Today, it has been over a decade since the terms "shortage," "crisis," "stress," "conservation" and "save" have been associated with water in educational books of schools and research publications. But even so many years later, the world is nowhere near to solving the problem of water security.
"I remember when our generation was at school. Water conservation was a topic sure, but it was never stressed in the ways it is done today. Our kids now are learning more about conservation methods and applications in real life than we ever did. A good sign as it is, it is also an indication of the fact that the resource is on the edge of exhaustion, which is a cause of worry," says Sammy Farag, the CEO of AMPAC USA.
Water demand
Today the population of the world has crossed seven billion. According to the predictions made by the U.N., the world population will grow to 8.5 billion by 2030 and 9.7 billion by 2050, with Africa expected to account for half of this growth. One would naturally think availing drinking water for so many people would be difficult. Accounting the consequences of such a population growth forces one to think how will we manage at all.
Farag agrees, "With population growth of each country, the economies grow, too. This means the water demand is not only specific to survival needs but for manufacturing, agricultural and luxury needs. For example, let's talk about things that we use on a daily basis. Two pounds of beef requires roughly 4,000 gallons, one cell phone is manufactured with 240 gallons and it takes three to six gallons of water to produce one gallon of gasoline. One can only imagine what kind of stress the world is about to face with an increase in population and, in turn, demand of these commodities."
Water in the U.S.
Water stress is quite visible in the U.S., too. Researchers claim that Lake Mead in Nevada, which provides water for 22 million people, will run dry by 2021. Even a powerful river like the Colorado River is now drying up in a few areas, which put a lot of concerns in the right places. California was the first to always face the wrath of summer heat when the lakes dried up. Now, as the Salton Lake has dried up, the dust is now found to be toxic, causing asthma attacks and respiratory problems to the nearby populace.
Things went south when the Flint water crisis surfaced a while ago. Water shortage is one thing but when even the available water turns out to be poisonous, it causes huge social tensions. A study revealed that 55 percent of Americans don't trust the quality of tap water. While in many areas, the water just tastes funny; in other areas, the increased lead content is posing a problem to the health and safety of the people.
"Before the 1950s, water pipes were made of lead and after that, these were replaced by copper. Today, we don't know exactly how many pipes have been replaced but if there are any lead pipes, it is expected that the lead will corrode into the drinking water, making it hazardous for consumption," says Farag.
Possible water solutions
"There are water solutions that can be taken up on individual and higher levels to ensure availability and safety of drinking water. We need to be more vigilant of the water supply that comes to our houses and also of the news. Vigilance is always the first step towards safety."
In one of the solutions, a topic of appropriate water pricing comes into the picture. With water available in the lowest figures yet essential for survival, one would think water should be free as it is a right of every human being to have the resource. As much as Farag agrees, he also mentions a condition that is important to be noted.
"Water is an essential commodity today. It is also essential for survival and so it should be free for everyone. However, in conditions of drought, if you decide to have a green lawn or grow water-intensive plants, then it is a cause of concern. Tariffs can be applied after a specific usage threshold that can keep unnecessary usage of water in check. So, you get free access to a particular amount of water which when crossed will cost you. This helps to begin a culture of water conservation and awareness of one's water footprint."
When it comes to the quality of water, two things that authorities mainly have to look out for is efficient water treatment facilities and regular water safety checks at the municipal level. In the U.S., cities are now already employing Reverse Osmosis technology to purify water, which is a huge step towards water safety. But regular maintenance of the plumbing and monitoring systems for safety levels are as important as ever. One wouldn't want a Flint crisis to knock on their door. Some of the water solutions Farag talks about relating to the availability of scarce water and safety include:
Educate for a change in lifestyle and consumption
Invent new and better conservation techniques
Recycle wastewater
Develop energy-efficient desalination plants
Develop a secure water management system
Initiate safety awareness campaigns that urge people to install water filters
Decrease corporate water footprint and address pollution.
Farag believes water safety is everyone's responsibility as it is everyone's right. "A lot of these initiatives have already begun. Authorities have begun to take notice and individuals are now starting to take the matter of safety in their own hands which are a welcome change. Efficient water purification technology and effective conservation techniques followed by governments and residents can put a dent in the problem of water security this country faces today. What happens in the future is what the coming generations get to see, however, how we act today is what defines it for them."
Source: AMPAC USA
Share:
---
Categories: Industries
Tags: Buy Online RO Systems, Reverse osmosis, RO for MILK Industry, Seawater Desalination, Water treatment Systems
---