AMPAC USA CEO on the Crucial Purpose of Offshore Water Makers
Offshore Water Makers have been a boon for the Military, Ocean, Marine, Oil, and Gas Industry. Made for intensive water desalination, these pieces of equipment have helped the industry strive for longer in the sea. Operating on the principle of advanced reverse osmosis, these were not used around 20 years ago, although their effectiveness holds true to date. Sammy Farag, CEO of AMPAC USA, a leading manufacturer of treatment systems for 30 years, talks about how these systems are effective in many industries today.
Press Release
-
updated: Aug 3, 2019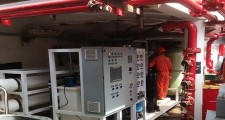 LOS ANGELES, August 3, 2019 (Newswire.com) - The world today cannot imagine a day without fuel being used in vehicles, factories, machines, and systems. It is one of the most sought-after commodities of this century. Countries have declared war over crude oil, sending thousands of soldiers for military operations offshore in the sea. Over time, the battle against each other has turned into a battle for survival. Every country today understands the important role the military, oil and gas industry plays in today's day. And so, heavy investments are made in the field for drilling oil from the sea or even land.
"No country can imagine a single day without oil," says Sammy Farag, CEO of AMPAC USA. "Nations practically run on this natural resource. The average individual needs oil to transport from home to office and back. Businesses, especially manufacturing businesses, need oil to run their facilities and transport items. Public transport that includes taxis, buses, trains and airplanes cannot run without fuel."
The investment, therefore, demands a large number of systems, machines, and equipment on a single rig, not to mention the manpower to run it. Similar conditions are faced by the Navy, sent out for military operations, and the Ocean & Marine Industry, which sets out for expeditions in the oceans. These set-ups require water as a resource for a greater number of activities than one can imagine.
Oil and Gas Industry
This industry already runs under a lot of pressure for drilling, oil along with the dangers that come with it. Water is an essential commodity that ensures the operations run smoothly and time is saved by the use of these offshore seawater treatment units. These pieces of equipment are equipped with highly advanced reverse osmosis systems that turn seawater into potable and/or usable water.
"Water is required for injection, cooling types of machinery, cleaning the rig, drinking, sanitation and sewage treatment on the location. Saline water can harm the components of the machinery, as well as the human body, which is why the sea is never a source. Here is where reverse osmosis steps in to purify the available supply to make it fit for use," adds Farag.
Offshore water makers, due to their heavyweight requirements, therefore, are made with the most advanced processes and have to pass the highest level of standards. All the Oil and Gas RO types of machinery are engineered by experienced, trained and skilled workers and are designed by highly competent engineers. The requirements of each rig can be different, and so all equipment can be customized depending on the location.  
Offshore Military Operations
Undertaking military operations offshore is one of the toughest jobs. It demands months at a stretch, and the possibility of the operation ending on time is never clear. Therefore, this industry requires high-end reverse osmosis equipment that can accommodate the requirements, which can be very demanding at times. These ships face the harshest of waters of various kinds, and the equipment on board needs to be well-equipped to deal with a wide range of water qualities. 
"These NATO ships travel all around the world and need to be ready for salty, brackish, well or even surface water. These are specially made for military-grade operations and for a number of purposes," Farag says.
The Offshore Military-grade equipment needs to be NATO certified and sturdy to last longer. The standard reliability needed for this particular machinery cannot be stressed enough. It is used for cleaning, cooling, sanitation, drinking, cooking, and sewage treatment purposes. Without it, the operations either have decreased the duration and a greater number of trips, which is a waste of time and energy, or the ships will have to carry freshwater weighing it down and, therefore, is a bad design altogether. Offshore water makers offer the comfort of potable freshwater without the disadvantages.
Ocean And Marine Industry
"When a vessel or rig's solitary water source is the sea and its mission and survival are on the line, only the toughest, most reliable watermaker should be on board," says Farag. "Deployed on vessels and rigs in every ocean on the planet including the Arctic, these desalination watermakers have to produce freshwater with calm reliability under extreme conditions."
Like the Military, Oil and Gas Industry, this industry undertakes long durations of expeditions for scientific discoveries and knowledge. It includes traveling in waters around the Amazon rainforest or the Arctic circle. The equipment responsible for providing water onboard for a wide range of needs has to be built up to the highest of international standards. Failure can never be an option, which is why these watermakers are carefully designed and crafted.
All of these offshore watermakers must be able to produce over a thousand gallons each day. Additionally, these systems are made explosion-proof, considering the danger involved in all of the above industries. These systems are meant to make the work for offshore industries easier and without danger. Offshore watermakers have made operations in the seas easier than they were 50 years ago.
About the Author:
AMPAC USA is a water treatment system manufacturing company offering products for 30 years. They offer offshore watermaker products of international standards and for every industry. For more information about the company, visit www.ampac1.com
Source: AMPAC USA
Share:
---
Categories: Production and Manufacturing
Tags: Purpose of Offshore Water Makers, Reverse Osmosis Purifier Market, Seawater Desalisation
---
Related Files
Additional Links