American Financial Benefits Center: Why Federal Student Loans Are Often Better Than Private Student Loans
Press Release
•
updated: Nov 15, 2018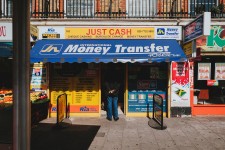 EMERYVILLE, Calif., November 15, 2018 (Newswire.com) - Many students feel they need to borrow money for higher education, but which student loans are the right ones to take? With federal and private loans available to many borrowers and the average cost of college leading to $37,172 of debt, the decision on which loan to take may lead to interesting decisions that can dictate a borrower's financial future. However, since many borrowers feel they must take out loans to participate in their education, it is important to know which loans benefit borrowers the most. American Financial Benefits Center (AFBC), a document preparation company, advises that borrowers should generally seek out federal loans before getting private student loans.
"Not all loans are equal," said Sara Molina, manager at AFBC. "Federal loans often have a variety of flexible repayment options and often have a lower interest, overall."
We hope that all borrowers are able to understand the benefits from choosing federal loans, but are able to know their options and form a solid repayment strategy regardless of their loan type.

Sara Molina, Manager at AFBC
Federal loans are generally better for borrowers for many reasons. Federal loans for the 2018-2019 school year have an annual interest rate of 5.05 percent for undergraduate direct subsidized and unsubsidized loans, 6.6 percent for graduate subsidized or unsubsidized loans, 7.6 percent for direct PLUS loans and five percent for Perkins loans, with interest rates set each year. Compare that to private loans which vary from company to company but have a range between 3.69 and 13 percent interest with variable rate loans and 5.35 and 14.05 percent interest for fixed-rate loans at top lenders. Private loans can have either variable or fixed interest rates, and the rates that borrowers get depend on their credit score or their cosigner's credit score. With limited exception, no student loan, either federal or private, can be discharged through bankruptcy.
Since the average private loan interest rate in 2017 was 7.81 percent for variable rate and 9.66 percent for a fixed rate, and it is likely those rates have gone up, it is easy to see why most would prefer federal loans from the perspective of interest. This difference can affect the size of the monthly payment that is given to a borrower. In addition, federal loans have alternative repayment methods like income-driven repayment plans (IDRs), which can potentially reduce a student loan borrower's monthly repayment to 10 to 15 percent of their monthly discretionary income. IDRs end in federal loan forgiveness after 20 to 25 years, which means that they are a long-term, flexible repayment strategy for those who need such a thing.
By comparison, borrowers with private loans often have a fixed repayment schedule with higher interest. Private borrowers are often confined by the terms of their loan, which often restrict flexibility for borrowers in financial hardship. Private loans can force borrowers into repayment strategies that require extra payments, making refinancing the only recourse for struggling borrowers. Refinancing lumps all of the student loans together into one new loan with a potentially lower interest rate dependent on a good credit score or cosigner. Borrowers with federal loans can also refinance their loans, but doing so removes access to alternative repayment options like IDRs or deferment, so it should be considered only when the borrower is sure that they can remain on a fixed repayment schedule.
"Some borrowers may be putting off their FAFSA or the necessary paperwork required for federal loans. That decision may affect them years down the line," said Molina. "We hope that all borrowers are able to understand the benefits from choosing federal loans, but are able to know their options and form a solid repayment strategy regardless of their loan type."
About American Financial Benefits Center
American Financial Benefits Center is a document preparation company that helps clients apply for federal student loan repayment plans that fit their personal financial and student loan situation. Through its strict customer service guidelines, the company strives for the highest levels of honesty and integrity.
Each AFBC telephone representative has received the Certified Student Loan Professional certification through the International Association of Professional Debt Arbitrators (IAPDA).
American Financial Benefits Center Newsroom
Contact
To learn more about American Financial Benefits Center, please contact:
American Financial Benefits Center
1900 Powell Street #600
Emeryville, CA 94608
1-800-488-1490
info@afbcenter.com
Source: American Financial Benefits Center
Related Media
Additional Links