American Financial Benefits Center: Where Have All the English Majors Gone?
Press Release
-
updated: Oct 18, 2018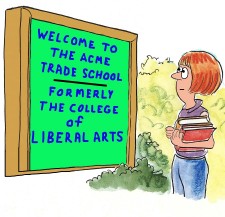 EMERYVILLE, Calif., October 18, 2018 (Newswire.com) - Due to the high cost of college and the long-term effects of student loan debt, liberal arts education is attracting fewer students. There has been a fifty percent decline in the number of English majors, the hardest-hit discipline. In fact, all the humanities have suffered decreases since the 2008 financial crisis. According to some analysts, students fled the humanities after the financial crisis because they became increasingly fearful of an insecure job market and the thought of paying off rising student loan debt. American Financial Benefits Center (AFBC) recommends that those who are overwhelmed by student loan debt consider looking into federal repayment programs. For years, AFBC has been helping thousands of clients possibly lower their monthly payments with these types of programs, such as income-driven repayment plans (IDRs). 
"Choosing a course of study is a very personal decision, but it is unfortunate that the cost of college and the student loan debt crisis are turning people away from certain fields of study," said Sara Molina, manager at AFBC.  "As our clients know, we assist those who find their student loan debt insurmountable, helping them possibly keep their payments low by navigating the repayment system to maximize their benefits and keep recertification up to date." 
Though the liberal arts have faced declines in the past, notably in the 1970s after a major recession, this drop does not reflect a sudden decrease in interest in the humanities or a real drop in the career prospects of humanities majors. Instead, in the aftermath of the Great Recession, students seem to have shifted their view of what they should be studying. Since this is not based on realities in the job market, it turns out that their efforts may be misguided. 
A very concrete example of the seriousness of this decline is that the sharpest decreases are at liberal arts colleges and more elite schools. These schools have often been noted as bastions of the humanities, institutions where a liberal arts education has been central to their mission in higher education. Historically, students have been evenly divided between the sciences, social sciences and humanities at elite universities. Now, much fewer than one-quarter of students at these schools are humanities majors. This has affected elite research universities, as well, that have seen a decline of about 70 percent since 2008.
A recent article in Think suggests that since college has become so expensive and student loan debt a national crisis, students are more likely to comply with social and family pressure. Parents, for generations, have threatened to withhold resources and sought to force their children into "serious" courses of study. Now, though, with all of that looming debt, students are much less willing to go it alone and work their way through college. Cultural pressure, magnified by financial stress, also motivates students to not appear foolish or frivolous. No matter the reason, the threat of unmanageable student loan debt hangs like a dark cloud over all these trends.
"The student loan debt will have long-term consequences that we are only beginning to understand, this shift away from liberal arts being one of them," said Molina. "For our clients, even with their student loan debt, we can help them in their efforts to meet their long-term financial goals by continuing to assist them in maintaining enrollment in their IDRs, perhaps even ending in forgiveness in 20 to 25 years."
About American Financial Benefits Center
American Financial Benefits Center is a document preparation company that helps clients apply for federal student loan repayment plans that fit their personal financial and student loan situation. Through its strict customer service guidelines, the company strives for the highest levels of honesty and integrity.
Each AFBC telephone representative has received the Certified Student Loan Professional certification through the International Association of Professional Debt Arbitrators (IAPDA).
American Financial Benefits Center Newsroom
Contact
To learn more about American Financial Benefits Center, please contact:
American Financial Benefits Center
1900 Powell Street #600
​Emeryville, CA 94608
1-800-488-1490
​info@afbcenter.com
Source: American Financial Benefits Center
---
Categories: Financing and Student Loans, Financial News
Tags: college major, English major, federal student loans, humanities, income-driven repayment
---