American Financial Benefits Center Warns Student Loan Borrowers: DOE Will End Gainful Employment Rule
Press Release
•
updated: Sep 11, 2018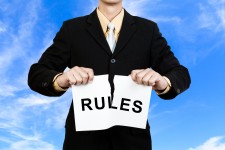 Emeryville, CA, September 11, 2018 (Newswire.com) - This month, the Department of Education (DOE) formally announced that it will be ending the "gainful employment" rule which aims to hold colleges accountable for graduating students with underwhelming job prospects and overwhelming student loan debt. In a statement, the DOE said that this shift provides students "meaningful information" while not "targeting schools simply by their tax status." Critics suggest this change dismantles student protections against being defrauded or misled and that "99 percent" of the complaints involved "for-profit institutions." Concerns are much more immediate for borrowers who struggle to keep up with their student loan debt, despite fiercely fought political battles. How do borrowers repay their student loans and keep up with monthly household bills? American Financial Benefits Center (AFBC), a documents preparation company, helps its clients by guiding them through the sometimes complex process of applying for and maintaining enrollment in federal programs, such as income-driven repayment plans (IDRs).
"This is a time of shifting politics, which may make our help even more necessary," said Sara Molina, Manager at AFBC. "Borrowers need trusted, proven solutions to help them in their struggles. We help them navigate the IDR process, even helping with recertification each year, keeping borrowers up to date so they can get on with their lives."
Borrowers need trusted, proven solutions to help them in their struggles.

Sara Molina, Manager at AFBC
The official DOE explanation of the change is that college students require helpful data to make important decisions about their education and that the DOE approach is to aid students across all segments of higher education and enhance accountability. According to Michelle Hackman of the Wall Street Journal, this shift fits squarely with DeVos's constant theme of deregulation, allowing the free market to provide "as many options as possible and allowing the market to help you decide, or giving you information to help you decide where you best benefit."
But critics view the change as providing less accountability by removing the most powerful tool held by the DOE: the ability to take away federal aid from schools that do not deliver on promises to prepare students for careers while they encourage students to take on student loan debt. Critics say that without these rules, when taxpayers are on the hook for the difference, for-profit colleges continue to profit, even when a high percentage of borrowers are unable to pay back their loans.
As these shifts are put into place, it is important for individual borrowers to know that they have options available to them. AFBC empowers its clients by helping them find repayment programs, such as IDRs, that can even end in forgiveness in 20 or 25 years.
"Though these changes will affect future students and the direction of our economy, our business model remains the same," said Molina. "We aim to help clients who have suffered from overwhelming student loan debt get the break needed to have more financial freedom and live a healthier, happier life."
About American Financial Benefits Center
American Financial Benefits Center is a document preparation company that helps clients apply for federal student loan repayment plans that fit their personal financial and student loan situation. Through its strict customer service guidelines, the company strives for the highest levels of honesty and integrity.
Each AFBC telephone representative has received the Certified Student Loan Professional certification through the International Association of Professional Debt Arbitrators (IAPDA).
American Financial Benefits Center Newsroom
Contact
To learn more about American Financial Benefits Center, please contact:
American Financial Benefits Center
1900 Powell Street #600
Emeryville, CA 94608
1-800-488-1490
info@afbcenter.com
Source: American Financial Benefits Center
Related Media
Additional Links