American Financial Benefits Center: Volunteer to Have Student Loan Reduced
Press Release
•
updated: Oct 30, 2018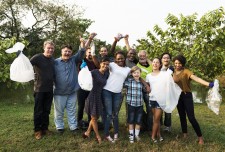 EMERYVILLE, Calif., October 30, 2018 (Newswire.com) - Most borrowers work for years to pay off their student loan debts, but American Financial Benefits Center (AFBC) is closely watching a recent trend in which borrowers can now volunteer to have their debt reduced. Though there are other ways for volunteers to pay down their student loan debt, Shared Harvest Fund, launched this summer, has a goal of paying off $20 million in student loan debt by 2020. Students and borrowers volunteer for a set amount of hours per month with a nonprofit partner and, aside from the satisfaction of working for the good of the community, have a check sent to their student loan lender. AFBC is a document preparation firm specializing in helping its clients maintain their enrollment and maximize their benefits in federal programs, such as income-driven repayment plan (IDRs).
"Though the student loan debt crisis has been extremely hard on millions of individuals and their families, it is wonderful to see the innovations that these hardships have inspired," said Sara Molina, manager at AFBC. "We continue to innovate to help those struggling with student loan debt. And we remain committed to assisting individual borrowers as they interact with their loan servicers — hopefully keeping their monthly payments low based on income and family size."
Though the student loan debt crisis has been extremely hard on millions of individuals and their families, it is wonderful to see the innovations that these hardships have inspired.

Sara Molina, Manager at AFBC
Certain groups of students are particularly susceptible to the stresses of student loan debt. An article in The Atlantic outlines how, on average, African-American students, after four years of making student loan payments, watch their student loan debt balances increase. Alternatively, white Americans have paid off their balances by 10 percent in those same four years. Shared Harvest Fund was founded by Dr. Briana DeCuir, Dr. Joanne Moreau and Dr. NanaEfua B. Afoh-Manin — physicians concerned by the difficulties faced by these borrowers. A goal of their project is to reach out and educate this population about debt, especially student loan debt.
While focusing on those who are most affected, the goal of Shared Harvest Fund is to help all borrowers. Two-thirds of revenues generated by subscription fees and sponsorships are paid back to the student loans of volunteers. The remaining third is split between project management, marketing and efforts toward outreach, policy reform and improved financial literacy for those most at risk. The mission of Shared Harvest Fund is to combat the "particular stressors" associated with student loan debt by "encouraging people to re-focus, re-energize and re-invest in building stronger communities." They bill themselves as the first and only FinTech solution to the student loan debt crisis, a way to turn the gig-economy and side-hustles into a win-win of building community and positively impacting the lives of those overwhelmed by student loan debt.
There are other organizations that seek to impact the student loan debt of those willing to volunteer. Sponsor Change encourages and rewards volunteers by reducing student debt by crowdfunding non-profit projects and matching them with skill-specific volunteers. AmeriCorps volunteers, after a year of service, qualify for a maximum grant of $5,920 that can be cashed or used to pay off student loan debt. There are many other organizations — for example the Peace Corps and Teach for America — that, though they do not pay off student loan debt, advertise themselves as qualifying for the beleaguered Public Service Loan Forgiveness program. Unfortunately, this program has done little to help public-minded workers with their student loan debt.
"We love to see organizations find great solutions for student loan debt," said Molina. "Our goal is to be an advocate for borrowers, guiding them through the processes and hopefully helping them to get and keep the financial relief they need to move their lives forward."
About American Financial Benefits Center
American Financial Benefits Center is a document preparation company that helps clients apply for federal student loan repayment plans that fit their personal financial and student loan situation. Through its strict customer service guidelines, the company strives for the highest levels of honesty and integrity.
Each AFBC telephone representative has received the Certified Student Loan Professional certification through the International Association of Professional Debt Arbitrators (IAPDA).
American Financial Benefits Center Newsroom
Contact
To learn more about American Financial Benefits Center, please contact:
American Financial Benefits Center
1900 Powell Street #600
Emeryville, CA 94608
1-800-488-1490
info@afbcenter.com
Source: American Financial Benefits Center
Related Media
Additional Links