American Financial Benefits Center: Student Loan Debt Crisis Shows No Sign of Abating
Press Release
•
updated: Sep 24, 2018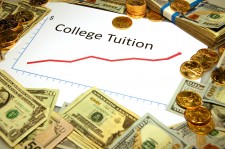 EMERYVILLE, Calif., September 24, 2018 (Newswire.com) - American Financial Benefits Center (AFBC) continues to closely monitor the uninterrupted rise in college cost and the effect this has on millions of student loan borrowers. With more than 44 million borrowers owing more than $1.5 trillion and no relief in sight, the economic lives of millions of borrowers are being negatively impacted. A recent Bloomberg article outlined the outsized increases in pursuing a degree in higher education and the influence of these costs on student loan debt. AFBC, a document preparation company, has assisted thousands of customers who were overwhelmed with student loan debt in saving millions of dollars each month.
"The cost of college continues to relentlessly rise," said Sara Molina. "Borrowers are faced with a difficult choice to take on debt that will impact their lives or forego a college degree which may also impact their lives. As our customers know, a federal program, such as an IDR, based on income and family size, might lower payments and create more financial stability."
Borrowers are faced with a difficult choice to take on debt that will impact their lives or forego a college degree which may also impact their lives.

Sara Molina, Manager at AFBC
From 2007 to 2017 the Consumer Price Index (CPI) rose 21 percent, about two percent per year, according to the Bloomberg article. Over that same period, college tuition rose 63 percent, school housing increased by 51 percent, and textbooks surged 88 percent. It is no wonder then that student loan debt, $545 billion in 2007, has nearly tripled. Americans hold more debt than they ever have before and student loan debt is driving this increase. Student loan debt now makes up 10.5 percent of the record $13.1 trillion in U.S. household debt, up from just over three percent in 2003.
In addition, income has barely kept up with CPI increases. Though the median household income has gone up since 2007, from $58,149 to $59,039 in 2016, this marks only a two percent increase, not enough to keep up with inflation. Additionally, whereas prior to the bursting of the housing bubble in 2008, parents could use the equity in their homes to finance the education of their children, this is no longer possible for many families across the country. These two factors mean that students are increasingly shouldering the burden of the increased cost of going to college by borrowing more. Further, these combined factors mean that there is currently no relief in sight in the student loan debt crisis.
"The closer we look at the numbers, the more challenging the student loan debt crisis becomes," said Molina. "We continue to help AFBC borrowers maintain their financial relief by assisting them in recertifying their IDRs and keeping them up-to-date on procedures required by their loan servicers. We may not be able to stall the national crisis, but we can continue to work to ease a borrower's personal student loan debt crisis."
About American Financial Benefits Center
American Financial Benefits Center is a document preparation company that helps clients apply for federal student loan repayment plans that fit their personal financial and student loan situation. Through its strict customer service guidelines, the company strives for the highest levels of honesty and integrity.
Each AFBC telephone representative has received the Certified Student Loan Professional certification through the International Association of Professional Debt Arbitrators (IAPDA).
American Financial Benefits Center Newsroom
Contact
To learn more about American Financial Benefits Center, please contact:
American Financial Benefits Center
1900 Powell Street #600
​Emeryville, CA 94608
1-800-488-1490
​info@afbcenter.com
Source: American Financial Benefits Center
Related Media
Additional Links