American Financial Benefits Center: Student Loan Debt Continues to Grow Faster Than Other Consumer Debts
Press Release
-
updated: Oct 25, 2018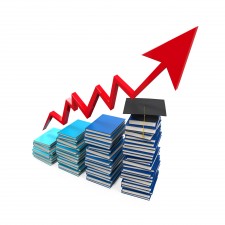 EMERYVILLE, Calif., October 25, 2018 (Newswire.com) - The fastest-growing consumer debt continues to be student loan debt. Since 2007, student loan debt has climbed 157 percent, dwarfing other segments of the market such as mortgages, auto loans and credit cards. This is particularly challenging as wages remain flat and interest rates rise, with interest rates on direct subsidized or unsubsidized student loans at their highest since 2009. These factors combine to make even the highly constrained Federal Reserve Chairman Jerome Powell express concern that long-term economic growth could be held back by the student loan debt crisis. American Financial Benefits Center (AFBC), a document preparation company that assists its clients with federal student loan repayment plan applications, such as for income-driven repayment plans (IDRs), is closely monitoring the continued, dramatic rise of student loan debt.
"Student loan debt is a national crisis that impacts more than 44 million borrowers," said Sara Molina, manager at AFBC. "At AFBC, our main goal is to ease the suffering of our clients who have been overwhelmed by student loan debt. As our clients know, we guide and assist through the entire process of applying for and maintaining enrollment in programs, such as IDRs, that can possibly lower monthly payments and make their financial lives more manageable."
As student loan debt has ballooned over the last 11 years, auto loan debt has increased by 52 percent and mortgage and credit card debt has actually fallen by one percent. In fact, student loan debt passed credit card debt as the second-largest consumer debt (behind mortgages) in 2009. Borrowers now hold more than $400 billion more in student loan debt than in credit card debt and, as tuition continues to rise, that disparity is only expected to get larger.
Unsurprisingly, student loan delinquency rates — defined as those who have been late or overdue on their payments for more than 90 days — increased and have remained high since the recession. While mortgages, credit card debt and auto loans have witnessed significant declines in delinquency rates since 2010, student loan debt delinquency rates have climbed to well over 10 percent. Unlike other segments of consumer debt, student loan debt is higher for those who borrow less. It particularly impacts borrowers of color, those who attended for-profit schools and those who took out loans but were unable to obtain their degrees. As AFBC clients know firsthand, student loan debt can have a profoundly negative effect. It can delay home ownership, marriage and even having children.
"Based on this information, there doesn't seem to be an end to the student loan debt crisis close at hand," said Molina. "We will continue to help each client, making sure they stay up to date with recertification, hopefully ending in forgiveness in 20 or 25 years."
About American Financial Benefits Center
American Financial Benefits Center is a document preparation company that helps clients apply for federal student loan repayment plans that fit their personal financial and student loan situation. Through its strict customer service guidelines, the company strives for the highest levels of honesty and integrity.
Each AFBC telephone representative has received the Certified Student Loan Professional certification through the International Association of Professional Debt Arbitrators (IAPDA).
American Financial Benefits Center Newsroom
Contact
To learn more about American Financial Benefits Center, please contact:
American Financial Benefits Center
1900 Powell Street #600
Emeryville, CA 94608
1-800-488-1490
info@afbcenter.com
Source: American Financial Benefits Center
---
Categories: Financing and Student Loans, Financial News
Tags: consumer debt, federal student loans, income-driven repayment, student debt
---