American Financial Benefits Center Asks: Is This the First Attack Launched Solely at a Political Candidate's Student Loan Debt?
Press Release
•
updated: Nov 5, 2018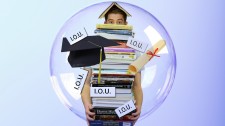 EMERYVILLE, Calif., November 5, 2018 (Newswire.com) - American Financial Benefits Center (AFBC) is carefully tracking the progress of a California congressional race, in which a candidate is being attacked for his student loan debt. In a radio ad, Republican Devin Nunes is calling out Democrat Andrew Janz for, among other things, having a "half million dollars in debt from college" and supporting legislation to "make taxpayers bail him out." Nunes remains the frontrunner in the race in the central valley in California, though this tactic has surprised many. A recent Mercury News article reported that "roughly one out of every six Californians on the ballot for Congress in November has student debt, totaling more than $1.1 million in the red." The debate on student loan debt, and voters' choices based on these discussions, could impact borrowers for years to come. AFBC, a document preparation company, has helped thousands of clients possibly lower their monthly student loan payments by guiding them through enrollment and recertification of federal programs, such as income-driven repayment plans (IDRs).
"Though we diligently watch this and all developments in the student loan repayment industry, our main focus remains our clients," said Sara Molina, manager at AFBC. "We are attentive to changes in the lives of our clients, keeping up with their paperwork and making sure they maximize their benefits to keep their payments as low as possible."
Of course, it remains to be seen how the student loan debt crisis will be dealt with by either party.

Sara Molina, Manager at AFBC
Janz's financial disclosure forms show he owed between $260,000 and $515,000 in student loans accumulated while he was an undergraduate, graduate and law student. He has called for reforms, including increased debt forgiveness for graduates who go into public service. This is in response to the floundering PSLF program that has so far denied more than 28,000 applicants and given debt forgiveness to only 96 public servants. "The system is broken and we need new leaders who understand education policy and the value of loan forgiveness programs," said Janz.
Though other candidates have been attacked for personal finances including student loan debt, it appears that none so far have been called out solely for this debt. Janz is not alone in his predicament — over half the students in California leave college with debt, graduating with an average of $21,382 in student loans. On Nunes' financial disclosure form, he lists no debt and his campaign remains unapologetic about using student loan debt as an issue. "The way someone deals with their personal debt is an indicator of how they'll deal with the national debt," said Fred Vanderhoof, chair of the Fresno Republican party.
Of course, the candidates are sparring over much more than student loan debt. And the recent ad has not produced noticeable movement for either candidate. Nunes, a staunch Republican defender on the House Intelligence Committee, remains firmly in control, though his lead has shrunk over the last several months. According to the most recent polls, Nunes now leads Janz by between five and 12 points in a heavily Republican district. It remains to be seen if perceptions about student loan debt and discussions and policies surrounding the issue are shifting as more politicians carry student loan debt.
"Of course it remains to be seen how the student loan debt crisis will be dealt with by either party," said Molina. "We remain laser-focused on each client, acting as their trusted advocate as they deal with their loan servicers. We aim to empower our clients to successfully manage their student loan debt and regain control of their financial lives."
About American Financial Benefits Center
American Financial Benefits Center is a document preparation company that helps clients apply for federal student loan repayment plans that fit their personal financial and student loan situation. Through its strict customer service guidelines, the company strives for the highest levels of honesty and integrity.
Each AFBC telephone representative has received the Certified Student Loan Professional certification through the International Association of Professional Debt Arbitrators (IAPDA).
American Financial Benefits Center Newsroom
Contact
To learn more about American Financial Benefits Center, please contact:
American Financial Benefits Center
1900 Powell Street #600
​Emeryville, CA 94608
1-800-488-1490
​info@afbcenter.com
Source: American Financial Benefits Center
Related Media
Additional Links