American Financial Benefits Center: After-Midterm Election Ramifications and Student Loans
Press Release
-
updated: Nov 16, 2018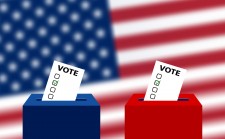 SAN RAMON, Calif., November 16, 2018 (Newswire.com) - History has been made with this most recent election period, now drawn to an end and the dust is settling out. Colorado has its first black congressman, 117 women won congressional seats, and Nevada elected a man who had passed away about a month prior. Many recently elected officials spoke on the topic of student loans which clearly many voters related to. American Financial Benefits Center (AFBC), a document preparation service company that has helped many struggling student loan borrowers apply for federal repayment programs, says this recent midterm election will bring with it changes to the student loan playing field, one way or another.
After the past couple of years, many policies from the previous presidential era have come, gone, and been changed. As usual, some people have benefited from certain policies more than others. Recently, an Obama-era rule was reinstated, giving more borrowers a chance to better help themselves. It will take time to see how well these newly elected officials hold to their goals and promises, keeping in mind that there is only so much each individual can do within a political sphere, but for many, this midterm season has been seen as a sign of hope. "Big changes are likely coming for student loans from this election, even if they're changes that won't really take effect for a few years yet," said Sara Molina, manager at AFBC.
For borrowers that have needed help before these recent elections, companies like AFBC have been doing their part. Helping clients apply for federal income-driven repayment programs that have potentially lowered their monthly payments and gotten them on track for student loan forgiveness after 20-25 years of being in the program is just a part of the good AFBC has done for student loan borrowers. "We believe student loan repayment shouldn't have to be a struggle. That's why we're so dedicated to helping our clients and being a student loan advocate," said Molina.
About American Financial Benefits Center
American Financial Benefits Center is a document preparation company that helps clients apply for federal student loan repayment plans that fit their personal financial and student loan situation. Through its strict customer service guidelines, the company strives for the highest levels of honesty and integrity.
Each AFBC telephone representative has received the Certified Student Loan Professional certification through the International Association of Professional Debt Arbitrators (IAPDA).
American Financial Benefits Center Newsroom
Contact
To learn more about American Financial Benefits Center, please contact:
American Financial Benefits Center
1900 Powell Street #600
Emeryville, CA 94608
1-800-488-1490
info@afbcenter.com
Source: American Financial Benefits Center
Share:
---
Categories: Financial News, Financing and Student Loans
Tags: congressmen, election, income-driven repayment, midterm election, midterms, student loan repayment, student loans
---