American Financial Benefits Center: A Few Small Colleges Offer Student Loan Debt Safety Net
Press Release
•
updated: Nov 6, 2018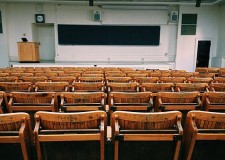 EMERYVILLE, Calif., November 6, 2018 (Newswire.com) - American Financial Benefits Center (AFBC) is closely following a development in student loan repayment in which some colleges guarantee help for a borrower if they graduate from college but don't make enough money to pay back their loans. The Loan Repayment Assistance Program (LRAP) is offered at relatively few schools, in which financial assistance is offered to graduates who earn less than certain income thresholds. In fact, LRAP will pay up to 100 percent of the payment until a student makes enough to begin repayment. This includes PLUS loans, taking a lot of pressure off students and their families to immediately make enough money to cover their student loan debt. AFBC, a document preparation company, helps its clients with federal student loans maintain enrollment in federally available programs, such as income-driven repayment plans (IDRs) that can keep monthly payments low, based on income and family size.
"We are encouraged by any help that overwhelmed student loan borrowers get," said Sara Molina, manager at AFBC. "Our clients know that our job is not finished when they get their IDR. We continue to help them with recertification year after year as they deal with their student loan servicers."
LRAP is a helpful development and we continue to carefully monitor all student repayment options.

Sara Molina, Manager at AFBC
LRAPs are offered at smaller private colleges. Pacific Lutheran University, with over 3,000 students, is the largest. Others, including Providence Christian, University of Providence, Hiwassee College and Montreat College, have less than 1,500 students. The program promises to alleviate concerns about repayment so that taking a job with a moderate to low income right after graduation isn't so painful. The program is pretty simple: Once students graduate, they must work and make their loan payments — if their income falls below levels predetermined by each school, they may receive assistance. The program is not a free handout; students must work 30 hours per week after graduation to be eligible for reimbursement of their student loans.
An excellent example is Montreat College in North Carolina. It is a small, liberal arts, Christian institution that is promising incoming freshman next year that it will help with loan repayment if borrowers earn less than $43,000 per year after graduation. Perhaps LRAP can work at a small college like Montreat since tuition is relatively controlled and students have superior outcomes. For example, U.S. News and World Report ranked Montreat as the second-best college in North Carolina and 13th in the south for student loan debt — graduates from Montreat owe 45 percent less debt than the national average.
"LRAP is a helpful development and we continue to carefully monitor all student repayment options," said Molina. "Our goal is to remain our clients' expert in student loan debt so that they can leave the stress and pressure of navigating the repayment processes to us. Our objective is to give them their financial freedom back, which is what many clients have told us we have done."
About American Financial Benefits Center
American Financial Benefits Center is a document preparation company that helps clients apply for federal student loan repayment plans that fit their personal financial and student loan situation. Through its strict customer service guidelines, the company strives for the highest levels of honesty and integrity.
Each AFBC telephone representative has received the Certified Student Loan Professional certification through the International Association of Professional Debt Arbitrators (IAPDA).
American Financial Benefits Center Newsroom
Contact
To learn more about American Financial Benefits Center, please contact:
American Financial Benefits Center
1900 Powell Street #600
Emeryville, CA 94608
1-800-488-1490
info@afbcenter.com
Source: American Financial Benefits Center
Related Media
Additional Links