AG Neovo Launches TX-3202 32-Inch Touch-Through-Glass-Enabled Touch Screens for Interactive Digital Signage Solutions
Press Release
•
updated: Jul 1, 2021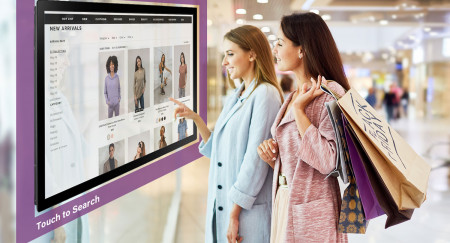 TAIPEI, Taiwan, July 1, 2021 (Newswire.com) - AG Neovo is pleased to announce the launch of the new TX-3202 32-Inch touch-screen display.
The TX-3202 is designed to meet commercial and retail needs. They have a durable, interactive screen that is capable of 24/7 use. TX-3202 screens provide an accurate touch experience even through extra glass or with gloves.
The TX-3202 multi-touch display can work as information kiosks, self-service kiosks, or touch-screen tables. They can also be interactive window displays or digital POP displays.
Here are the benefits of TX-3202 touch screens.
Gloved and Through-Glass Multi-Touch Screen
The TX-3202 multi-touch screen can register up to 30 touch-points with fingers or a stylus. It allows multi-touch gestures like scrolling, swiping, and pinch-to-zoom.
The TX-3202 has the built-in ability to register touch even when mounted behind a glass layer. The touch-through-glass function adds a layer of security to touch screens. This is ideal for retail or commercial applications.
Touch-through-glass provides the same accuracy and functionality as actually touching the screen. This allows creative displays of interactive content to attract, engage, and entertain customers.
They can also register touch when used with gloves made out of cotton, latex, or leather. With this, customers can wear gloves, whether out of personal preference or security concerns.
"Our TX-3202 touch screens with built-in touch-through-glass function can be applied in the interactive window displays or touch screen tables in retail and commercial settings," said Kevin Hsieh, Product Manager at AG Neovo. "Touch-through-glass helps interact with the customers creatively and boost engagement and business."
Convenient Set-up and Use
TX-3202 touch screens are convenient to set up and use. TX-3202 touch displays offer a plug-and-play touch screen for Windows 10.
They are compatible with all VESA mounting patterns. The TX-3202 is specially designed with mounting holes on all sides of the display. It makes mounting the screen easy and convenient. They can be mounted on walls, kiosks, or touch tables in portrait or landscape orientation.
TX-3202 touch screens are also compatible with various operating systems, including Mac OS and Android, Windows, and Linux.
Durable Under 24/7 Usage
TX-3202 are large-format touch screens with a front IP65 rating. They are water-proof and dust-proof and designed with durability in mind for continuous 24/7 use.
They have metal housing and can easily dissipate heat. TX-3202 touch screens are also vandalism-proof. They have passed the UL60950 ball-drop test for high-impact resistance with an IK08 rating.
Benefits of the TX-3202 Touch Screen Display
TX-3202 touch screens are durable with a commercial-grade panel. They are convenient to install and are adaptable in use and function.
They are capable of registering 30 touch-points simultaneously. They also support touch through glass or with gloves.
The TX-3202 touch screen is ideal for commercial and retail applications to boost engagement and improving business.
For more information, please contact AG Neovo at www.agneovo.com.
Source: AG Neovo
Related Media
Tags
Related Files