AG Neovo Announces New 22" and 24" Clinical Review Monitors With DICOM Mode and Ergo Design to Aid in Healthcare and Clinical Applications
Press Release
•
Dec 21, 2021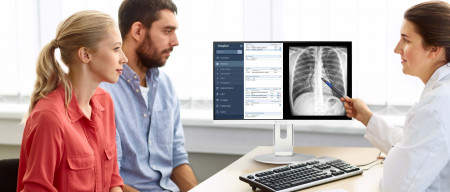 TAIPEI, Taiwan, December 21, 2021 (Newswire.com) - AG Neovo today announced the release of MD-Series 22" and 24" (the MD-2402 and MD-2702 respectively) Clinical Review Monitors with 2MP resolution and DICOM Part 14 compatible, this improvement in monitor viewing will harmonize the image of fidelity with accurate shading of medical imaging. Combining ergonomic design and VESA compatible solutions, the monitors bring more comfort and setup flexibility for clinical staff and healthcare professionals in a variety of settings.
The increasing demand for electronic medical records (EMRs), electronic health records (EHRs), and a picture archiving and communication system (PACS) make a medical imaging monitor matter. AG Neovo MD-Series Clinical Review Monitor provides crystal-clear imagery at 2MP resolution and DICOM Part 14 Compatibility. It keeps the grayscale levels of medical imaging in detail, allowing clinical staff to make the right decisions and save communication time on a solid basis.
The improved imagery will be aided by a three-sided Bezel-less display with a wide viewing angle, ensuring a 178/178 degrees viewing capacity and allowing multi-monitor review and sharing.
"Besides 2MP resolution for clinical review requirement, our MD-2402 and MD-2702 clinical review monitors support the DICOM Part 14 standard that ensures the grayscale levels of images in detail," said April Chang, Product Manager at AG Neovo. "This will save time and facilitate timely patient care among clinical staff and healthcare professionals."
Each monitor is ergonomically sound with a height-adjustable stand and tilt capabilities. The ergonomic design allows staff and patients to be comfortable when reviewing imagery together.
Additionally, the monitors are VESA-mount compatible, which will allow workstations to be designed in any manner clinical staff or healthcare staff decides is needed. That makes it ideally suited for multi-screen workstations, operational use on medical carts and presentations done in clinical staff offices or patient rooms.
Safety was also a key concern in the development of each model. And each monitor type meets compliance standards of IEC/EN 60601-1 with a medical-grade power supply, which is designed to ensure and exceed optimum safety compliance and to protect doctors, medical staff, and patients. This includes each monitor possessing protection against voltage fluctuations from medical-grade certified power supplies and injury by electric shock.
Both the MD-2402 and MD-2702 monitors will revolutionize how imagery and patient education are handled. Clinical staff or healthcare professionals interested in either size can visit MD-Series webpage or contact the team at AG Neovo.
AG Neovo is a globally recognised provider of high-grade displays for use by professionals and the commercial sector. With more than 20 years of experience, the company specialises in producing premium displays for use in public spaces.
Source: AG Neovo