AFBC: Paperwork for the 2019-2020 School Year Can Start Being Filed, but There Have Been a Few Changes for Independent Students
Press Release
-
updated: Oct 12, 2018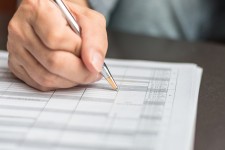 EMERYVILLE, Calif., October 12, 2018 (Newswire.com) - ​​​With tuition costs at an all-time high, especially when related to the average median income, more students are in need of some sort of financial assistance to attend college. Some take out loans, some apply for scholarships and grants, and others try to utilize a mix. The more grants someone is able to utilize, the less they will have to take out in student loans to afford their education. American Financial Benefits Center (AFBC), a document preparation service company that has helped many student loan borrowers apply for federal repayment programs when repayment has become difficult, worries about increasingly tight restrictions on government student aid and how that will affect current and future borrowers.
"People seeking federal financial student aid have certain steps they have to take before they can take out the loans, while private loans are a bit more straightforward," said Sara Molina, manager at AFBC. It's the time of year where people start filling out their Free Application for Federal Student Aid or FAFSA. With any sort of program, there are requirements that have to be met, and those requirements are going to need updating as times change. For the school year of 2019-2020, the income amount to qualify for a zero Expected Family Contribution (EFC) went from $25,000 to $26,000. But it also looks like an independent student with no dependents other than a spouse, who makes under the required $26,000, will no longer be eligible for a zero EFC. Because that number won't hit zero, it will mean an independent student will now be expected to financially cover more of their own education when they had limited funds to begin with.
Students with no access to help from their families, either because their family is of low income or they do not have a family, are some of the most vulnerable financially. Taking away funding they need to better themselves hurts not just in the moment that they calculate that they will be receiving less financial assistance, but in their future as they have to make the decision to either take out loans that may be more than they can realistically afford, or to no longer pursue a college education. AFBC has helped thousands of student loan borrowers apply for federal income-driven repayment plans that have potentially lowered their monthly payments on loans that have become too much for a borrower to handle. "We believe student loan repayment shouldn't be a burden, and that's why we strive to help our clients as best we can, and remain a strong student loan advocate," said Molina.
About American Financial Benefits Center
American Financial Benefits Center is a document preparation company that helps clients apply for federal student loan repayment plans that fit their personal financial and student loan situation. Through its strict customer service guidelines, the company strives for the highest levels of honesty and integrity.
Each AFBC telephone representative has received the Certified Student Loan Professional certification through the International Association of Professional Debt Arbitrators (IAPDA).
American Financial Benefits Center Newsroom
Contact
To learn more about American Financial Benefits Center, please contact:
American Financial Benefits Center
1900 Powell Street #600
Emeryville, CA 94608
1-800-488-1490
info@afbcenter.com
Source: American Financial Benefits Center
---
Categories: Financial News, Financing and Student Loans
Tags: Department of Education, FAFSA, income-driven repayment, student loan repayment, student loans
---