AFBC: Millennial Gallows Humor Leaves Some Breathless When They Hear It, But Why Are They Making Those Jokes?
Press Release
•
updated: Sep 4, 2018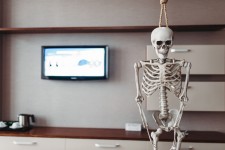 SAN RAMON, Calif., September 4, 2018 (Newswire.com) - Having a sense of humor is usually thought of as a positive quality to a personality. Senses of humor don't always line up, though, and a well-meaning joke can fall flat when told to the wrong crowd. Younger millennials and Generation Z seem to have a rather fatalistic sense of humor, which doesn't usually go over well with people who don't understand where that gallows humor is coming from. Drowning under debts like student loans, with too few ways to handle the problem, is a nightmare for many young borrowers that they can't seem to wake up from. American Financial Benefits Center, a document preparation service company that has assisted thousands of struggling student loan borrowers apply for federal repayment programs, has seen how hard many borrowers are struggling and that their harsh sense of humor may be a coping mechanism stemming from stress and depression.
"Student loan repayment has become a struggle for many borrowers, to the point that services like ours have become necessary," said Sara Molina, manager at AFBC. A survey by Student Loan Hero showed almost 65 percent of participants reported losing sleep over their student loans. More than 70 percent reported suffering from headaches related to constant worrying over their student loans and how they felt they were losing control of their situation. Feeling like they have no way out, how else would many cope but by making jokes about their situation? Dying is one of the few ways to have student loans quickly forgiven, so why wouldn't many joke about wanting to die? If they did, all of their worries suddenly would be a non-issue.
Student loan repayment has become a struggle for many borrowers, to the point that services like ours have become necessary.

Sara Molina, Manager at AFBC
Understanding this harsher sense of humor may not come easily for everyone. But some people may have found they hear less dark jokes or find themselves making less when they have a way to lessen their student loan burden. AFBC has helped thousands of qualified borrowers apply for federal income-driven repayment programs that have lowered borrowers' monthly payments and gotten them on track for student loan forgiveness, which can come if a borrower remains in such federal programs for 20-25 years. "People handle stress in their own ways, but with AFBC's services, we hope that a student loan borrower has more chances to be less stressed in the first place," said Molina.
About American Financial Benefits Center
American Financial Benefits Center is a document preparation company that helps clients apply for federal student loan repayment plans that fit their personal financial and student loan situation. Through its strict customer service guidelines, the company strives for the highest levels of honesty and integrity.
Each AFBC telephone representative has received the Certified Student Loan Professional certification through the International Association of Professional Debt Arbitrators (IAPDA).
American Financial Benefits Center Newsroom
Contact
To learn more about American Financial Benefits Center, please contact:
American Financial Benefits Center
1900 Powell Street #600
Emeryville, CA 94608
1-800-488-1490
info@afbcenter.com
Source: American Financial Benefits Center
Related Media
Tags
Additional Links