AFBC: Is Strategically Defaulting on Student Loans the New Way Borrowers Are Handling Their Debt?
Press Release
-
updated: Oct 8, 2018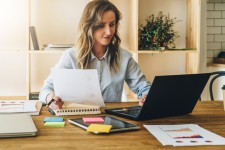 EMERYVILLE, Calif., October 8, 2018 (Newswire.com) - Defaulting on student loans can do some serious damage to a borrower's life. The emotional strain that can come from defaulting, as well as the financial burden, wouldn't be something anyone chooses to deliberately put themselves through, right? In the case of strategic defaulting, that may not necessarily be the case. American Financial Benefits Center (AFBC), a document preparation service company, has worked with many struggling borrowers to help them apply for federal repayment programs, avoiding the need to default, but some borrowers may feel they have no other option.
"Student loan repayment is something that not every borrower is able to handle, often for reasons outside of their control. People don't stop making loan payments because they'd rather spend their money on other things, they do it because they can't afford to otherwise," said Sara Molina, manager at AFBC. Strategic defaulting is the act of purposely defaulting. It's not the inherent act in and of itself that is strategic, but the work that comes after it. While defaulting would usually come with a sense of some sort of failure from an extended period of missed payments, making the decision to purposely default can help alleviate that feeling that otherwise might be all-consuming. With a strategic default, because it was planned, then a borrower can work on a setup plan of handling their repayment on their terms.
There are cons of course to this sort of tactic, such as damaged credit scores, potentially garnished wages or tax returns and an increased difficulty in getting future loans. For those with federal loans, applying for an income-driven repayment (IDR) program could likely help avoid the need for a strategic default. Once in an IDR, payment size is based off of family size and income, often lowering borrowers' monthly payment and getting them on track for student loan forgiveness after 20-25 years of being in the program. AFBC has helped thousands of borrowers in their efforts to better their financial situation by assisting them in applying for IDRs and through the yearly recertification process. "We believe student loan repayment shouldn't be a struggle. That's why we strive to do everything we can for our clients and exceed their expectations," said Molina.
About American Financial Benefits Center
American Financial Benefits Center is a document preparation company that helps clients apply for federal student loan repayment plans that fit their personal financial and student loan situation. Through its strict customer service guidelines, the company strives for the highest levels of honesty and integrity.
Each AFBC telephone representative has received the Certified Student Loan Professional certification through the International Association of Professional Debt Arbitrators (IAPDA).
American Financial Benefits Center Newsroom
Contact
To learn more about American Financial Benefits Center, please contact:
American Financial Benefits Center
1900 Powell Street #600
​Emeryville, CA 94608
1-800-488-1490
​info@afbcenter.com
Source: American Financial Benefits Center
---
Categories: Financial News, Financing and Student Loans
Tags: defaulted loans, income-driven repayment, student debt, student loan default, student loan repayment, student loans
---