AFBC: Disability Shouldn't Mean Inability to Attend College
Press Release
-
updated: Oct 16, 2018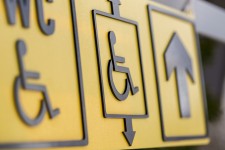 EMERYVILLE, Calif., October 16, 2018 (Newswire.com) - Attending college under regular circumstances is hard enough. The majority of college attendees will need some sort of financial assistance. College hopefuls on Supplemental Disability Income (SSI) may think they might have to sacrifice their government assistance and live off of student loans for a while, but there are other options. American Financial Benefits Center (AFBC), a document preparation service company that has helped many struggling student loan borrowers apply for federal repayment programs, says there may be other options for those who need the most help rather than having to force themselves to try and make ends meet outside of what they can realistically handle.
"Attending college has become one of the most common reasons someone will have to take out a loan. But not everyone is adequately equipped to handle repayment," said Sara Molina, manager at AFBC. Being single and on SSI means only being able to have $2,000 in funds and assets. There are exceptions as to what counts as an asset like a main car and primary house and others, but the line may not always be clear in some cases. Luckily, most forms of federal financial aid such as PELL grants, specific scholarships and federal loans do not count against that limiting $2,000.
For those relying on SSI for their financial needs, it can be a relief to know that they don't have to worry about losing their funding as long as they take the appropriate channels. But when on SSI for disability, repayment of even federal loans may be difficult. AFBC has been there to help thousands of qualified borrowers apply for federal income-driven repayments plans that have potentially lowered their monthly payments and gotten them on track for student loan forgiveness in 20-25 years of being in the program. "We believe repayment shouldn't have to be a struggle. That's why we're so committed to helping our clients apply for federal repayment programs, helping them in the yearly recertification process and being a vocal student loan advocate," said Molina.
About American Financial Benefits Center
American Financial Benefits Center is a document preparation company that helps clients apply for federal student loan repayment plans that fit their personal financial and student loan situation. Through its strict customer service guidelines, the company strives for the highest levels of honesty and integrity.
Each AFBC telephone representative has received the Certified Student Loan Professional certification through the International Association of Professional Debt Arbitrators (IAPDA).
American Financial Benefits Center Newsroom
Contact
To learn more about American Financial Benefits Center, please contact:
American Financial Benefits Center
1900 Powell Street #600
Emeryville, CA 94608
1-800-488-1490
info@afbcenter.com
Source: American Financial Benefits Center
---
Categories: Financial News, Financing and Student Loans
Tags: disability, income-driven repayment, PELL grant, SSI, student debt, student loan repayment, student loans
---