AFBC: College Has Changed Over Its Lifetime, and So Has Its Cost
Press Release
-
updated: Oct 29, 2018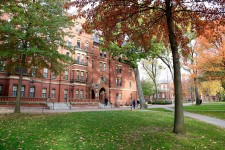 EMERYVILLE, Calif., October 29, 2018 (Newswire.com) - College is still talked about as one of the best ways to get ahead in life, but even this historical giant once reserved for only the wealthy has undergone some changes as time advances. One of those is the ever-rising cost of college, but today's college is very different from when it started and even from 60 years ago. American Financial Benefits Center (AFBC), a document preparation service company that has helped many struggling student loan borrowers apply for federal repayment programs, says that there have been some serious upgrades to what colleges have to offer and that that is related to the ever-increasing cost of college attendance.
"Even institutions like colleges have to update themselves to keep up with the times, which is going to have a ripple effect on other related things," said Sara Molina, manager at AFBC. College offers a lot more these days than it did before. This is true not just because technology has advanced so far with the computers and other tools that require specialized training and updated technology to work with, but also other features that are less commonly thought of. Campuses have more student housing now, more buildings besides just the typical classroom, such as planetariums for the public to come and enjoy, and other student services. The networking opportunities provided by attending college is often said the be one of the top reasons to go besides personal growth.
But are those kinds of features worth a bill that the majority of college attendees will need some sort of financial assistance to afford? Some will say yes, others no, as all issues have people on the various sides. What many people argue is that the cost of college is a problem because of the potential pitfalls that come from trying to repay burdensome student loan debt when things don't pan out the way they are supposed to. AFBC has helped thousands of qualified student loan borrowers apply for federal income-driven repayment plans that can potentially lower their monthly payments and get them on track for student loan forgiveness after 20-25 years of being in the program. "We believe student loan repayment shouldn't be a burden on borrowers simply trying to better themselves. That's why we're so dedicated to helping our clients apply for these federal repayment programs and assisting them with the yearly recertification process," said Molina.
About American Financial Benefits Center
American Financial Benefits Center is a document preparation company that helps clients apply for federal student loan repayment plans that fit their personal financial and student loan situation. Through its strict customer service guidelines, the company strives for the highest levels of honesty and integrity.
Each AFBC telephone representative has received the Certified Student Loan Professional certification through the International Association of Professional Debt Arbitrators (IAPDA).
American Financial Benefits Center Newsroom
Contact
To learn more about American Financial Benefits Center, please contact:
American Financial Benefits Center
1900 Powell Street #600
​Emeryville, CA 94608
1-800-488-1490
​info@afbcenter.com
Source: American Financial Benefits Center
---
Categories: Financing and Student Loans, Financial News
Tags: change, college benefits, income-driven repayment, social network, student debt, student loan repayment, student loans
---