Adam Lemke Taking Part in Dream Team Activities This Weekend at Madera Speedway
Press Release
•
updated: Jul 5, 2018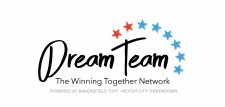 MADERA, Calif., July 5, 2018 (Newswire.com) - ​​​Adam Lemke, 15, of Hollister, California is humbled to be a part of this weekend's activities for Dream Team – The Winning Together Network at Madera Speedway in Madera, California.
Lemke, a fan favorite known for being a winner both on and off the track, will have 17-year-old Samuel Owen as an honorary member of his pit crew. Adam takes to the track for round six of the USAC Western Midget Series, having won the first five races of the season and put himself in first place in both the pavement series and overall series championship chase.
A youngster with an easy smile, Lemke is looking forward to the opportunity to provide a fun experience for Owen while going hard after his sixth win of the series in his No. 98 ADL Motorsports, Off-Axis-Paint midget.
"I'm excited and honored to be a part of the Dream Team program for this weekend," the racer said. "It means a lot to me to be able to give back to the community by providing a young man with special needs a chance to gain some hands-on experience he may otherwise never have gotten. Track owner Kenny Shepard is a super nice guy who is always about the kids, and I'm thankful that he supports this program to give us drivers the chance to use what we do to help others. I hope we can make it six wins and give Samuel a taste of how much fun it is to end up in victory lane!"
The Dream Team offers kids with special needs a chance to join a driver for a night of racing. Together they form a friendship through learning.
The Dream Team is a nonprofit program originating in Bakersfield, California and put together by Bakersfield Tuff Magazine and Motor City GMC. The program takes individuals with special needs of all types and teams them up with a race car driver for a night of friendship, fun, and learning. The goal is for both parties to work as a team, learn together and walk away with unique memories that will last a lifetime.
Drivers often go out of their way to make these kids feel special by dressing up their cars with personalized stickers and provide memorabilia packets for their honorary crew members that include Hats, T-Shirts, Autographed Hero Cards etc. Check out their Facebook page by typing "@TheDreamTeamNetwork" in the Facebook search bar.
Dream Team Executive Director Sarah Hood expressed her excitement about the initiative Madera Speedway has taken. "We'd like every track in California to get involved with this program eventually. The tracks and racers are inspiring people to be better human beings."
If you'd like to treat your family to a night at the races and be a part of this special weekend at Madera Speedway, you can get more information on their website at www.racemadera.com.
For more information or to get your very own Adam Lemke signed hero card, visit Adam's website at www.adamlemkeracing.com.
Follow Adam:
Website: http://adamlemkeracing.com
​Facebook: https://www.facebook.com/ADL_Motorsports
Twitter: https://twitter.com/ADL_Motorsports​
Instagram: https://www.instagram.com/adl_motorsports
Media/Sponsorship Contact: Rod Wortham – Race Face Brand Development
Email: Rod@racefacebd.com • Ph: (727) 999-2628
Source: Race Face Brand Development on behalf of ADL Motorsports
Related Media