Acclaimed Futurist to Share His Insights on the Future at Four Events This Month
Press Release
•
updated: Dec 1, 2017
Best-selling author Jack Uldrich will be speaking to IT services, banking, and manufacturing groups this month about emerging trends and how to "future-proof" their businesses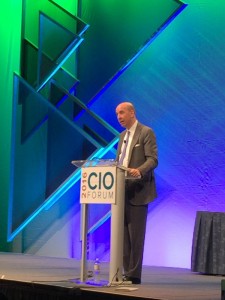 Houston, TX, December 1, 2017 (Newswire.com) - Jack Uldrich, global futurist and best-selling author of Foresight 20/20, will be presenting four keynote speeches nationally and internationally throughout the month of December. He starts the month in Houston today, where he will be speaking to the IT services industry. He then travels to Canada to address a top bank at events in Vancouver on the 5th and Banff on the 6th. Uldrich's final scheduled event of December is in Menomonee Falls, WI on the 20th, where he'll share his research on the future of manufacturing.
Internationally recognized for his research and speaking on technology, change management, and leadership skills, Jack Uldrich has addressed numerous businesses, trade associations, educational, government and investment groups around the world. He has delivered his messages on unlearning, top technology trends and his leadership concept of the "Big AHA," his acronym for Awareness, Humility, and Action on five continents.
The work I do is all about helping organizations prepare for the coming technological changes so that they can efficiently navigate and determine the course of their future.

Jack Uldrich, Best-Selling Author & Keynote Speaker
The author of eleven books, including The Next Big Thing is Really Small: How Nanotechnology will Change the Future of Your Business; and Jump the Curve: 50 Strategies to Help Your Company Stay Ahead of Technology, Uldrich travels the world speaking to audiences the latest technological trends that will transform their organizations. He is also an ongoing contributor on emerging technologies and future trends for publications including The Wall Street Journal, Forbes, Wired Magazine and BusinessWeek.
Uldrich also regularly makes television appearances on the Science Channel's "FutureScape" program and the Discovery Channel show "Inside Out," and is a frequent guest on the leading media outlets, including CNN, CNBC, and National Public Radio.
He speaks at over a hundred events each year and his recent client list includes Banamex, Global Atlantic, Invesco, National Ocean Industries Association, American Public Power, the National Rural Electric Cooperative Association, Emerson, AgPartners, STORE Company, FedEx, Verizon, and the U.S. Chamber of Commerce.
To learn more about Jack Uldrich, his books, his blog or his speaking availability, please visit his website.
Source: Jack Uldrich & The School of Unlearning
Related Media