A Shrinking Middle Class Likely Spells Trouble, Especially for Student Loan Borrowers, Says AFBC
Press Release
-
updated: Oct 17, 2018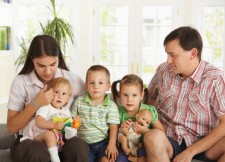 EMERYVILLE, Calif., October 17, 2018 (Newswire.com) - There's more talk about the class divide than ever before. A good amount of that comes from how easy it is to get that conversation going thanks to social media. It's easier than ever to talk to someone across the country, or across countries, and find out information in minutes, and even see visuals of the differences of how people are living. Because of that, there are heated talks about the ever-shrinking middle class in America. American Financial Benefits Center (AFBC), a document preparation service company that has worked with many struggling student loan borrowers to apply for federal income-driven repayment programs, worries that a shrinking middle class could spell economic trouble for millions of people.
"Paying for college is expensive, there's no denying that. On average it's close to $10,000 a year at in-state colleges and even more for out-of-state. Affording that on money already available just isn't an option for most people, and so they have to take out student loans to cover expenses," said Sara Molina, manager at AFBC.
Back in the 1950s, the nuclear family typically had enough money to afford a comfortable life for a spouse and 2.5 kids off of one person's salary. Now it often takes two adults working to afford life for themselves, let alone any dependents. The middle class of America is the most common class and has been for several decades, but it's been shrinking. Sort of. Physically, it has shrunk from 61 percent in 1971 to 51 percent in 2011. In 2016, the middle-class size has since stabilized, shrinking and growing within minor percentages. Some of that is in relation to more people being in the upper class. But there is still a kind of shrinkage happening to the middle class.
While the mathematical definition of middle class fluctuates, on average the amount of money people in the middle class has gone down, further increasing the differences between it and the upper class. With the majority of Americans in the middle class and another 29 percent in the lower class, that leaves a vast amount of people struggling to afford things that don't even make the upper class bat an eye.
When a grand expense like college is largely deemed a necessity by a society, an inability to afford it is a problem. It often means that those who took out loans to afford college will experience some sort of difficulty in repayment. AFBC has been there for thousands of struggling student loan borrowers to help them apply for federal income-driven repayment programs and assists with the yearly recertification process. "We strongly believe that student loan repayment shouldn't have to be a burden and for too many Americans, it is. That's why we're so dedicated to being a student loan advocate and helping our clients as best we can, and to assist them to better achieve financial wellness," said Molina.
About American Financial Benefits Center
American Financial Benefits Center is a document preparation company that helps clients apply for federal student loan repayment plans that fit their personal financial and student loan situation. Through its strict customer service guidelines, the company strives for the highest levels of honesty and integrity.
Each AFBC telephone representative has received the Certified Student Loan Professional certification through the International Association of Professional Debt Arbitrators (IAPDA).
American Financial Benefits Center Newsroom
Contact
To learn more about American Financial Benefits Center, please contact:
American Financial Benefits Center
1900 Powell Street #600
Emeryville, CA 94608
1-800-488-1490
info@afbcenter.com
Source: American Financial Benefits Center
---
Categories: Financial News, Financing and Student Loans
Tags: family, hardships, income-driven repayment, middle class, nuclear family, student loan repayment, student loans
---