A Hot New Style of Beats Production by 'Musical Chairs Music Group'
Press Release
•
updated: Aug 24, 2017
Who is "Musical Chairs"?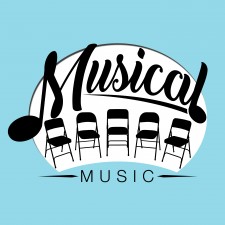 ATLANTA, August 23, 2017 (Newswire.com) - When you think about beats productions, you most likely think of one producer working solely on one sound. "Musical Chairs" has introduced a hot new style that will give producing a whole new perspective.
"Musical Chairs" is a collective group of five talented producers that met in Atlanta, Georgia while they were all networking at MstudioATL. These five producers from all different cities linked up in Atlanta where they all now reside and formed "Musical Chairs." This group of talented producers is not limited to the genre of music they can create. "Musical Chairs" specializes in coming up with a new sound for artists and they also build beats around acapella vocals.
"Why the name Musical Chairs?"
"Musical Chairs" was the name that AMN_City (one of the producers) came up with while trying to explain to an artist what exactly their method of making beats was. There are many production teams claiming that they all produced a track when actually in reality only one or two of them produced the track; and then the most known producer of the group stamps his/her tag on the beat. ZonaSimz and AMN_City disagreed with how other production teams conducted their sessions and this allowed them to share a new format with the rest of their team. While collaborating with another producer they learned this format and realized that this would make it equally fair around the board for all of the producers involved. The vision that they had was simple and "Musical Chairs" began.
All five producers all start five beats at the same time, then they use a format that they call "2 and move." Basically, they would put two sounds in the beat and then they would each move to the next chair/computer. Each producer would rotate until all five beats are completed and everyone has the same hand in the completion of the beat. Literally, all five producers are playing musical chairs and at the same time completing five completed beats in the same amount of time that an average producer completes one beat.
E=MC5: This term means that everybody on one beat equals MC - "Musical Chairs"
Now that you know about "Musical Chairs," let's introduce the five talented producers that incorporated this vision.

Juice God: Originally from Indianapolis, Indiana. Personal ENGINEER for Irv Gotti and Chink Santana/Murder Inc. Manager of MStudioATL. Produced/Engineered for TV show TALES on BET, Shad Da God, Ja Rule, Boogiie Byrd, Fitted Circle, Young Dolph, Riggz Two Nice, Shun Hendrix
Red Sparks: Originally from Columbus, Ohio. Produced/Engineered For Yahweh, Snootie Wild, Juvenile, Lil Flip, ODinero, Shun Hendrix
AMN City: Originally from Springfield, Illinois. Produced/Wrote For Eve, R Kelly, Bone Thugs N Harmony, Young Dro, American Will, Tatted Garcia.
Ben Cisse: Originally from Mali, West Africa but resides in Stone Mountain, GA. Produced For Fitted Circle, Boogiie Byrd, Shun Hendrix.
Zona Simz: Originally from Sierra Vista, Arizona. Part of HoodHardHitMakers with DJ Aaries. Produced For: Boogiie Byrd, Fitted Circle, Supa Peach, Nia Kay, King Malachi, Taj, Chyna Cymone, Cassius Cain, Yahweh, Shun Hendrix.
These five talented producers/engineers have produced for some well-known artist and it will not stop there, they have the technique and teamwork that will allow success to follow them.
"Musical Chairs" coming soon to a track near you.
E=MC5
Source: Bet Mobile Dst
Related Media