A Big AHA for Accounting
Futurist Jack Uldrich to deliver a keynote on future trends in accounting in Wichita, KS, on June 2.
Press Release
-
updated: Jun 2, 2017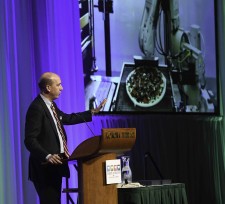 Kansas City, MO, June 2, 2017 (Newswire.com) - In January of 2016, Frank Deni wrote a letter the editor of the LA Times saying: "As technology is introduced in the marketplace, it appears that the old economic models no longer work."
And today, June 2, in Wichita, Kansas, global futurist Jack Uldrich will address precisely this topic with the National Society of Accountants for Cooperatives (NSAC) Midwest Chapter.
While his audience will be comprised of accountants, his talk will focus on how electric and agriculture cooperatives will change dramatically in the next decade.
"Every business leader feels it and knows it — the world is changing at an accelerating pace. Business models are shifting, consumer behaviors and preferences are evolving swiftly. In such an environment, it's hard to look ahead to the next quarter, let alone the next year. Still, business leaders must position their companies for continued success."
His answer to how to position themselves for success lies in his acronym, AHA. It stands for Awareness, Humility, and Action.
"Organizations must strive to enhance their awareness of changes on the horizon; have enough humility to acknowledge that what served the business well in the past might not be sufficient tomorrow, and they need to be willing to take action in the face of less-than-perfect information," says Uldrich.
Business leaders are often unwilling to "unlearn" certain things about their industry. "In fact, we may not even realize we have anything to unlearn," he said. Uldrich explained the reason so many businesses experience disruption isn't simply because they didn't see the change coming; it is because they couldn't let go of their assumptions soon enough, in other words, they couldn't unlearn fast enough. 
On the flip side, people like nut farmers (almond, walnut, and pistachio growers) are adopting precision agriculture, also known as "smart farming," and are thriving because of it.
The changing game of farming and utility co-ops will, in turn, change the game for accounting. It's a chain reaction.
Uldrich suggests: "If you broaden your awareness of the periphery, stay humble about the need to unlearn and become an active thinker, you will come to your 'A-HA' moments and better position yourself and your organization for the future."
Following his talk with the NSAC, Uldrich will address the Electric Cooperatives of South Carolina in Isle of Palms, SC, on June 6.
Parties interested in learning more about Jack Uldrich, his books, his daily blog or his speaking availability are encouraged to visit his website.
Source: Jack Uldrich & The School of Unlearning
Share:
---
Categories: Cooperatives, Electrical, Agriculture and Horticulture, Accounting
Tags: accounting, agriculture, future trends, futurist, renewable energy, utilities
---