4Stop Selected by Ontology for Identity Authentication Services
Press Release
-
updated: Sep 27, 2018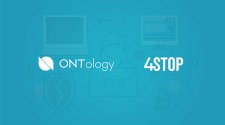 COLOGNE, Germany, September 27, 2018 (Newswire.com) - Ontology, a new high-performance public blockchain project and a distributed trust collaboration platform, has selected 4Stop to perform Know Your Customer (KYC) on the Ontology trust ecosystem. The two parties will work together to provide digital identity services, further enriching Ontology's trust ecosystem.
Empowered by Ontology Distributed Ledger Technology, 4Stop is to partake in Ontology's trust system that integrates global certification sources to verify and authenticate people, assets, objects, and affairs. Ontology's "real economy" strategy is to deliver robust and comprehensive multi-source identity portraits that enable stronger trust cooperation and efficiency in real-world use case scenarios.
In this cooperation, Ontology will utilize 4Stop to perform know your customer (KYC) compliance requirements, further ensuring that the blockchain industry continues to advocate trust as an emerging technology. 4Stop will provide necessary services that include validation, verification, and authentication of people.
Speaking on the cooperation, Ingo Ernst, CEO of 4Stop, said: "With the ever-evolving adoption of blockchain technology, we are very excited to be part of Ontology's innovate blockchain project by providing them with further KYC services to verify and authenticate personal data across the globe. Creating a mainstream, standardized, and easily accessible compliant and trusted infrastructure is something we are both passionate about, and we look forward to Ontology's future developments."
For more information please contact marketing@4stop.com or visit www.4stop.com or https://ont.io.
Source: Fourstop GmbH
Share:
---
Categories: Risk Management, Internet and e-Commerce
Tags: authentication, blockchain, compliance, cybersecurity, digital identities, KYC, risk management, verification
---