4Stop Partners With ComplyAdvantage for Their Award-Winning AML Data and Technology
Press Release
-
updated: Mar 17, 2020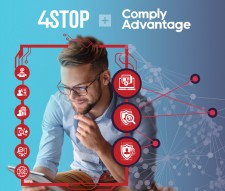 COLOGNE, Germany, March 17, 2020 (Newswire.com) - 4Stop ("FourStop GmbH") a leading global provider for KYB, KYC, compliance and fraud prevention announces today its integrated partnership with ComplyAdvantage. Through this partnership, 4Stop has enriched its data orchestration hub with ComplyAdvantage's world-class dynamic and interlinked datasets for screening and monitoring technology on AML data, adverse information and published media.
Our online economy is rapidly expanding where businesses need to instill the best processes for global fraud defense along with keeping up to the on-going shifts positioned in local and global regulatory regulations. Having access to real-time global KYB and KYC data services with comprehensive AML data and monitoring technology is vital for any online entity to ensure they are retrieving the most accurate insights of risk. This industry friction is one that both ComplyAdvantage and 4Stop harmoniously continue to solve in their innovations. Both companies are leaders in the fight against online financial crime and to make all online engagements a safer, more trustworthy experience.
4Stop aggregates managed services, data, software and expertise to establish a modern all-in-one orchestration hub of KYB and KYC data services, compliance and anti-fraud technology, accessed through a single API. This partnership with ComplyAdvantage supports 4Stop's vision and facilitates access to a world leader in real-time AML data and monitoring technology.
4Stop's clients can easily enable ComplyAdvantage's AML and AIM Insights (Adverse Information and Media) from the 4Stop data orchestration hub and customise its performance completely to meet any required compliance workflow. All backed behind 4Stop's proprietary anti-fraud technology with monitoring intelligence for maximum global fraud protection.
"We are excited to ignite this partnership with ComplyAdvantage and to welcome them to our suite of data services. They will truly provide our clients with a powerful, world-class, enterprise-level solution to manage compliance requirements with ease. Combined with our readily available KYB and KYC data services, our clients will obtain holistic risk mitigation workflows with comprehensive risk profiles to accelerate their global fraud defence with confidence," states Ingo Ernst, CEO, 4Stop.
ComplyAdvantage's technology has been built with a radically different technical architecture, leveraging data science and machine learning to understand risk computationally - data is updated in minutes rather than months. Clients of 4Stop will have complete confidence in their compliance screening and monitoring across; OFAC, UN, HMY, EU, DFAT and many more globally. Along with premium data performance on all AIM Insights (Adverse Information and Media) to screen and monitor businesses and customers against billions of pages for adverse information and media to effortlessly expand data-driven due-diligence. 
"We are excited to be partnering with 4Stop, an innovative company in the RegTech space. This partnership will provide financial institutions with a higher quality KYC, KYB and compliance data, allowing them to make more informed decisions on their clients relative to their risk-based approach," states Nathalie Newman, Head of Partnership, ComplyAdvantage.
For more information, please email sales@4stop.com or visit ComplyAdvantage at https://complyadvantage.com or 4Stop at https://4stop.com.
Source: FourStop GmbH
Share:
---
Categories: Business Technology
Tags: acquirer, AML, business technology, compliance, data, ecommerce, financial institutions, fraud prevention, KYB, KYC, risk management
---