18 Percent Increase in Preference From Social Customer Service Revealed in Upcoming Webinar From SEEK & Lexer
Lexer & SEEK, in partnership with Amazon Web Services, announce a webinar on Dec. 4, 2018, 12 P.M. AEST
Press Release
-
updated: Nov 29, 2018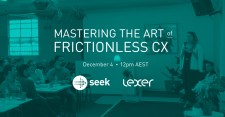 MELBOURNE, Australia, November 29, 2018 (Newswire.com) - Lexer has announced an exclusive 45-minute long webinar in partnership with SEEK and Amazon Web Services.
Mastering The Art of Frictionless CX features SEEK Social Media Marketing Manager Holly Arrowsmith and Lexer's VP of Success Kristy Malik and will discuss how SEEK has achieved outstanding results with social customer care using Lexer's Engage and Outbox tools.
"Because we work so nimbly with such large volumes of content, we need a platform that's quick and easy to use," says Holly Arrowsmith, Social Media Marketing Manager, SEEK.
SEEK will reveal how they are extending customer care beyond service interactions, and discuss their key challenges and priorities in 2019. The exclusive webinar is beneficial for professionals in the CX space.
Improving SEEK's CX has had a material impact on changing brand perceptions of SEEK from job board to career partner, with those aware of SEEK's social media channels being 25 percent more likely than those just aware of SEEK to say "SEEK provides advice, tips and training to help you with your career"; and 36 percent more likely to say "SEEK is always there to support me through my career."
Mastering The Art of Frictionless CX attendees will learn:
The measurable benefits of implementing a CX tool
How SEEK overcame challenges of operating a lean team 
Best practice tips on how to best engage customers via social channels
The value of conversation history 
2019 CX priorities for enterprise businesses 
SEEK is the global leader in the creation and operation of online employment markets. They own leading jobs boards in Australia, New Zealand, China, Brazil, Mexico, Africa and across South East Asia and their reach extends to over 800,000 hirers and 180 million candidates.
In conjunction with the webinar, Lexer has launched The 2019 CX Playbook - a standalone guide for CX professionals.
Link to the webinar: https://app.livestorm.co/lexer/master-your-customer-experience-with-seek.
Contact Lexer: hello@lexer.io | www.lexer.io
For further comment on this press release, contact Simon.smallchua@lexer.io.
Source: Lexer & SEEK
Share:
---
Categories: Business Technology
Tags: Customer Service, CX, Marketing, Personalization, Webinar
---