Tommy Chong Met with Roca Labs Users Who Lost 100 lbs Without Surgery
Four Gastric Bypass NO Surgery® users who lost 100 lbs without surgery flew to meet the stars from DWTS. Tommy Chong took the time to meet with them and hear of their success.
Press Release
-
Oct 15, 2014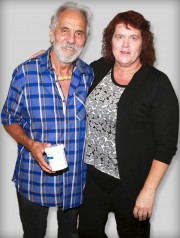 Tampa, Florida, October 15, 2014 (Newswire.com) - Meeting on the Dancing With The Stars set, Tommy Chong was introduced to four users who lost 100 lb each without surgery thanks to Roca Labs' Gastric Bypass NO Surgery® regimen. While Tommy is slim and not a Roca Labs candidate, he was impressed by the weight loss success of the lucky users who received a trip to Hollywood.  
Tommy took the time to learn about the Roca Labs® regimen which is an alternative to bariatric surgery. It is based on the Gastric Bypass NO surgery® and Anti-Cravings® inventions and it can help users lose 100 lb without a surgery.
Tommy held in his hands the white Activator that turns the Roca Labs formula into the red mixture which creates the immediate gastric bypass effect in the stomach and as a result limits food intake.
Denise from Maryland who lost 123 lb following the regimen, flew to meet with Tommy in California on the opening night of season 19 of Dancing With The Stars. Tommy listen to her story and the fact that she avoided a gastric bypass surgery using Roca Products.
Richard from Oregon (lost 105 lb in 10 months) and Roxie from Ohio (lost 83 lb and improved significantly her health) also flew to meet with the stars on set. They both said: "he is as nice in person as he looks on TV and in his movies."
The dancers and stars were impressed with the weight loss results, but are not in any way official endorsers of Roca Labs®. Images are courtesy of ABC and the Disney Company. Images should not imply product endorsement or use of Roca Labs products by celebrities pictured in images. Roca Labs® is not endorsed by Dancing With The Stars, ABC, BBC, or the Disney Co.or the individuals contestants, judges or performers appearing on Dancing With The Stars. Dancing With The Stars, ABC, BBC, and Disney are all registered trademarks of their respective owners. All trademarks on this web site whether registered or not, are the property of their respective owners. Dancers and celebrities on Dancing with the Stars had a special opportunity to meet with successful users of Roca Labs' Gastric Bypass NO Surgery® who lost 100 lb on average. 
*Results are not typical. Results can and will vary. 
Share:
---
Categories: Celebrities, Television, Dance
Tags: celebrities, dwts, reviews, roca labs, tommy chong
---