Spike in Automobile Accident Claims Reported by Hastings & Hastings
It is reported by reputable Phoenix law firm, Hastings & Hastings, that a rising demand in accident representation has occurred in the second quarter of 2015. Indeed, Hastings & Hastings increased demand for legal representation comes in the wake of their innumerable successful law suits, millions of dollars recovered for their clients, and a reported savings of $11,000,000 dollars over the pas
Press Release
-
Jul 20, 2015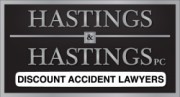 Phoenix, AZ, July 20, 2015 (Newswire.com) - It is reported by reputable Phoenix law firm, Hastings & Hastings, that a rising demand in accident representation has occurred in the second quarter of 2015.  Indeed, Hastings & Hastings increased demand for legal representation comes in the wake of their innumerable successful law suits, millions of dollars recovered for their clients, and a reported savings of $11,000,000 dollars over the past seven years.
Hastings & Hastings has been guarding the citizens of the valley for over 35 years, helping Arizonans recover the compensatory damages they deserve when involved in a wreck. Some of their automobile accident defense services include: 18 wheeler trucking related accidents, bicycle accidents, pedestrian accidents, motorcycle collisions, SUV accidents, trucking accidents, and of course, car accidents.
Indeed, Hastings & Hastings also boasts impressive settlement figures. Exempli gratis, a $600,000 tire blowout; a $190,000 go-cart accident; a $2,000,000 dollar wrongful death settlement; a trucking settlement weighing in at $610,000 bucks; drunk driving settlements clocking in at $200,000.
With over eleven locations scattered across the valley, Hastings & Hastings  is a buckshot away from everyone. Indeed, easy access is only trumped by quality service. One of their attorneys ascends from the ivory tower of Columbia, many matriculated from ASU and U of A graduating cum laude, magna cum laude, and summa cum laude.  Although Hastings & Hastings may be discount accident lawyers, they produce only the highest quality work.
"Our philosophy involves care for the individual. Every case is a new adventure, and we keep in mind the hardship and suffering associated with our client's accident, while we zealously represent them, and do all we can to compensate our clients for the amount they deserve. The rising demand in accident cases is of course fortunate, but we are more than equipped to handle it," said David Hastings, president and attorney at Hastings & Hastings
It cannot be doubted that an automobile accident can be a devastating, life changing event. However, there's no need to undergo the difficult pitfall of misfortune alone. Reach out to Hastings & Hastings  to guard you, and recover the compensation you deserve. 
Share:
---
Categories: Commercial Law, Business, Industries
Tags: accident attorney phoenix az, accident lawyers in phoenix, car accident attorney phoenix, lawyers phoenix az, phoenix accident attorney, phoenix traffic accidents
---