Roca Labs' Gastric Bypass Effect Helps Seniors Gain Health; Darlene, 75, Successfully Dropped 86 lbs
Darlene, a 75 year old senior, shares her inspiring weight loss success story. She found longevity, happiness and health with the help of Roca Labs. Morbidly obese seniors have found new hope with Roca Labs' Gastric Bypass Effect®.
Press Release
-
Oct 16, 2014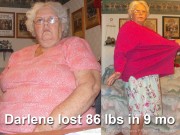 Cookeville, TN, October 16, 2014 (Newswire.com) - Darlene, a 75-year-old senior from Cookeville, TN, is among the latest of the Roca Labs success stories. She has an incredible weight loss story—in just under one year, she lost 86 lb with the help of Roca Labs Gastric Bypass Effect®. She was told by her doctors that she would be wheelchair-bound within 2 years, if she didn't lose the weight. She opted for gastric bypass surgery, and found a hospital in Las Vegas that would perform the risky surgery, even at her age, if she received an approval from her physician; however, her doctor was quick to say no. She went home feeling distressed and disappointed.
In her despair, she said, she turned to the internet for answers, and soon came across Roca Labs. "It was an answer to my prayer," she said. Her daughters pitched in to gift Darlene the Roca Labs Gastric Bypass Effect® regimen for Christmas. She recalls it as, "the best present I ever got."
Obesity in Senior Years
Darlene had gotten so morbidly obese that she was unable to sit on the floor to play with her grandchildren, or walk up the stairs without having to stop several times to catch her breath. She had started to feel like a burden on her family—depending on her husband for almost everything, even climbing into bed. Her obesity made her incapable of carrying-out everyday tasks.
Darlene's Inspiring Weight Loss
Just three months after starting the Roca Labs regimen, Darlene was already 19 lb down. She found her confidence and did not stop. She stuck with the regimen religiously, until she met her milestones. Which, she claims was surprisingly not as hard as she'd thought.
"You don't miss anything [because] with it you eat less, but you feel stronger," said Darlene.
By the 6th month, she was down 46 lb, and carried on steadily with Roca Labs regimen. Darlene has successfully achieved her weight loss goal—shedding a remarkable total of 86 lb so far. She continues to lose the weight and claims that she enjoy a healthier and younger body. According to Darlene, the Roca Labs regimen made some staggering improvements to the quality of her life. She is now able to take walks with her husband, go shopping, pick-up her grandchildren from the floor, and even ride a horse—something she loved, but had missed doing since her late teens.
"I recommend the Roca Labs formula because it saved my life and I thank God for that," she says.
The true account of her inspiring story can be seen in the emotional video below, documenting her Roca Labs review.
Share:
---
Categories: Seniors, Surgery, Dieticians and Nutritionists
Tags: gastric bypass, gastric bypass effect, morbidly obese, reviews, roca labs, seniors, weight loss
---