Revolutionary Performance Coating Technology Awarded Most Innovative New Solution
Sustainable Coatings, was honored by NorTech (Cleveland, Ohio, USA) for its high performance industrial coatings. The coatings employ a technology developed for aerospace and defense applications and makes it available for commercial industrial use.
Press Release
-
updated: Oct 9, 2014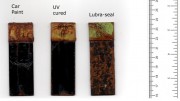 Cleveland, OH, October 9, 2014 (Newswire.com) - Sustainable Coatings was the recipient of the Most Innovative New Solution Award from NorTech, a technology innovation center headquartered in Cleveland, Ohio.  This coating technology was developed in part through research performed for the U.S. Department of Defense and the U.S. Environmental Protection Agency. The objective: to develop an environmentally friendly, chromate-free, zero TRI/VOC/HAPs coating system using a corrosion inhibiting UV curable coating for metal substrates that meets or exceeds current military requirements. 
The coating technology, developed by Dr. Ben Curatolo,  offers the next generation in high performance, environmentally friendly, cost effective coatings to deliver high integrity benefits to industrial products-anti-corrosion properties for metals, formidable chemical resistance, strong adhesion, anti-abrasion, and other properties that offer toughness and high integrity protection necessary for the most demanding applications.  The coatings are free of VOCs and solvents, offer an extended shelf life once opened (6 months or more), and do not have any chromium, isocyanates, or other chemicals included on the toxic release inventory.  Its fast curing system eliminates the bottleneck that coating often causes, reducing manufacturing footprint, allowing increased efficiencies and out-the-door speed by over 90%.  These coatings can be available in your specified colors and gloss.  Industries and substrates that benefit from these coatings include oil and gas, industrial parts production, storage tanks, pipes, shipping containers, automotive, concrete flooring and many others.
Using Sustainable Coatings technology speeds up the coating process and eliminates space required for drying.  The return on investment relating to implementing this performance UV coating is typically less than one year, and will put your company in an ideal position to supply your customers more quickly, increase cash flows from sales, and execute"just in time" manufacturing more effectively.
Share:
---
Categories: Production and Manufacturing, Global Warming
Tags: high integrity coatings, high performance coatings, industrial paints, VOC-free performance coatings
---