Release of the Claromentis Digital Workplace
Claromentis confirm the release of the Digital Workplace - a single integrated environment for collaboration, process management, personal development and working on projects.
Press Release
-
Jul 1, 2015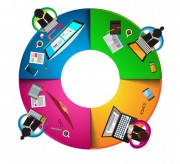 Brighton, United Kingdom, July 1, 2015 (Newswire.com) - Claromentis are pleased to announce the availability of the Digital Workplace. 
The workplace comprises four major platforms in one integrated environment:
Intranet platform
Business processes
Learning Management
Project Management
Access to a complete range of corporate information in a single integrated environment transforms the digital workplace and creates an experience similar to the consumer computing experience.
The workplace is  a single, beautiful platform that allows 80 % of staff to perform 80% of their working tasks. It also provides  seamless and easy access to the remaining 20 % of functionality available in specialized and legacy applications through identity management.
The Claromentis Digital Workplace allows you to work in a delightful and productive environment that allows you to review, reflect, share, create, prioritize and then work in the business areas that most need your attention and contribution. Responsive designs and mobile applications facilitate the modern requirements f working from anywhere and on any device. 
The platform is available both as a perpetual license for in house installations where that is a business requirement and also as a hosted solution.
---
Categories: Business Technology, Computers and Software, Computer
Tags: BPM, digital workplace, Intranet, LMS, Project management software
---