Recording Artist Doreen Taylor Selected as Newest Celebrity Face for Hades Footwear
International Eclectic Shoe Designer Selects Award Winning Pop Singer/Songwriter to Endorse Global Brand
Press Release
-
updated: Dec 10, 2014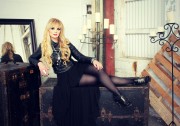 Los Angeles, CA, December 10, 2014 (Newswire.com) - Hades Footwear, a leading designer, manufacturer and distributor of women's footwear based in Los Angeles, CA has selected pop recording artist Doreen Taylor to endorse the global brand and represent the company as the newest "Hades Girl".
The popular singer recently teamed up with the cutting edge shoe brand in a photo shoot modeling and promoting several looks in the latest line marrying the timeless sophistication of Taylor's image with the edgy steampunk feel of the Hades designs.
"I have always been a huge fan of Hades Footwear so when I was asked to represent them, it was a dream come true! My entire music career is based on fierce independence and individuality so to be selected as a celebrity face of a brand that embodies that message was a perfect match." Taylor said.
Doreen Taylor is an award winning singer/songwriter and has been called one of the hottest up and coming musical stars by countless publications and television like CMT, the Lifetime Network, CBS, NBC, FOX News, CW Network, Ok!TV, etc. With a Masters degree in Opera Performance, Taylor has played numerous leading roles in various companies on and off Broadway and took the leap into country/rock music releasing her debut solo album "Magic" which garnered her the "2012 Suggested Artist of the Year" Award from the 'Song of the Year' international songwriting competition. Doreen's music videos, "Last call (for Alcohol)," "Heartbeat" and "Summertime" landed on the 'Top 100 Country Official Music Videos of the Week' chart at the same time and her "Judgment Day" music video went viral receiving over 400,000 youtube views and was nominated for 'Music Video of the Year' by Nashville Universe. Her"Magic" album was also hand selected by Bose and the #1 home shopping network, QVC to be played on all on-air demonstrations for promotion of their Bose Wave Sound System since October 2013 ["Music's My Magic" and "Perfect for Me"]. Most recently Taylor was honorably chosen to collaborate with the nation's leading park advocacy organization, the National Parks Conservation Association, on a new national anthem "Colors of the USA" in honor of the US National Parks. Doreen was named 'Ambassador of the National Parks' by the organization for her ongoing efforts to connect children and the millennial generation to parks in anticipation of the National Parks' upcoming centennial in 2016. http://www.doreentaylormusic.com
About Hades Footwear
Hades Footwear is a beautiful collection of intricately designed shoes made not only with elegance but a dangerously addictive sex appeal. Originally launched in 2010 as the brand Metropolis, Hades has grown into a well acknowledged designer, manufacturer, and wholesaler of provocative heels and sexy footwear with a touch of alternative and designer taste that hasn't been seen in the new generation of fashion, yet exploding worldwide in popularity. Hades shoes have been requested in numerous photo shoots, cat walks, TV shows and even celebrity events! As a strong promoter of individuality rather than conformity, they have put renowned designers and shoemakers together to form one of the most beautiful collections of shoes, each design having its own story and craftsmanship that is sure to make heads turn. With rapid expansion into Europe, Canada, Australia, and recently Japan,  Hades continues to grow into a strong leader of exciting and cutting edge fashion. http://www.hadesfootwear.com
For more information, press inquiries, etc. please contact:
CB Entertainment
David Pedemonti
Production Manager
(267)314-2654
(310)944-0099
All Images (c) 2014 David Daniel Photography
---
Categories: Arts and Entertainment, Fashion and Apparel, Fashion, Fashion and Apparel Industry
Tags: celebrity, doreen taylor, fashion, hades, magic, model, pop, shoes, singer, songwriter
---