New Partnership Brings Together IT Services and Structured Cabling
Chicago-based IT services firm CrossRealms Inc. partners with Telmon Inc. to provide structured cabling services, relieving clients of the burden of finding technology installation specialists on their own and helping to ensure successful implementation of CrossRealms' IT solutions.
Press Release
-
Sep 23, 2015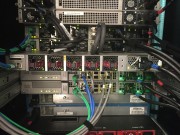 Chicago, IL, September 23, 2015 (Newswire.com) - CrossRealms Inc., a Chicago-based IT services firm, and Telmon Inc., a communications infrastructure firm based in Kalispell, Mont., have formed a unique partnership to provide clients with one-stop shopping and ensure the successful implementation of every CrossRealms IT project.
IT solutions require solid communications infrastructure, but these distinct and increasingly complex disciplines require different expertise and nearly always are performed by different vendors. Companies engaged in IT projects typically must contract separately with providers of IT services and communications infrastructure services. Moreover, if a problem arises with an IT project, it can be difficult for companies to sort out which vendor is responsible.
"Partnering with a high-quality provider of voice and data network infrastructure not only helps CrossRealms guarantee the successful implementation of its IT solutions, but also relieves clients of the burden of finding technology installation specialists on their own," says Usama Houlila, CrossRealms president and enterprise architect.
As CrossRealms' roster of national clients with multiple offices increases, so does the demand for multi-site technology deployments. Telmon is a national firm that specializes in logistics and the  installation of communications infrastructure across multiple sites. "We work closely with clients to determine exactly how they want their network infrastructure designed and deployed and then we deliver the company's standard consistently at every location," says Scott Harrison, RCDD, Telmon chief operating officer.
Well planned and designed communications infrastructure facilitates the continuous, daily flow of information and allows for flexibility into the future. It makes it easier for organizations to update, improve and expand their information technology; relocate or remodel their offices; and resolve any connectivity problems that may arise. Network infrastructure and technologies typically outlast other technologies, so it is important to get this foundational component right from the start.
CrossRealms, founded in 2007, offers both IT consulting and managed services with fixed fees and monthly contracts to help clients predict and control IT costs. CrossRealms leverages its technical expertise and best-in-breed partnerships to help companies reach their business goals and seamlessly integrate new technologies. Services provided by CrossRealms include network security; backup and disaster recovery; IT infrastructure; hosting, cloud and virtualization; monitoring and analytics; and business phone systems.
Telmon, founded in 1990, provides a range of high-quality, scalable voice and data infrastructure design, installation, and IT support services. Telmon is a Corporate Member of Building Industry Consulting Service International and has two Registered Communications Distribution Designers on staff. Services provided by Telmon include demarc extension/inside wiring; office/asset relocation; structured cabling; datacenters; national rollouts; and sound masking solutions.   
For more information about the partnership and CrossRealms, visit www.crossrealms.com and for more information about Telmon, visit www.telmon.com. 
Share:
---
Categories: Business Technology, Business
Tags: IT Infrastructure, IT Managed Services, IT Services, Structured Cabling, Technology, Technology Installation
---