LOCAL 279 Union Carpenters Pitch in to Help Pitch4Kids
Local Carpenters Offer Skill & Time as Volunteers
Press Release
-
Sep 1, 2015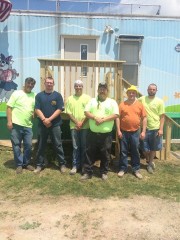 Fishkill, N.Y., September 1, 2015 (Newswire.com) - When the stairs and deck leading to a Pitch4Kids trailer at Dutchess Stadium, Fishkill, N.Y,  became both unsightly and dangerous, union carpenters from Local 279 stepped up and replaced the damaged structure. The trailer is used as an office and for equipment storage.
The Renegades Pitch4Kids is a nonprofit organization devoted to enhancing "the quality of life of young people and their families throughout the Hudson Valley by supporting community organizations whose programs make a positive change in youth, their families and the community."  
When the organization asked Danny Durham, head of the volunteer committee for Hopewell Junction-based Local 279, if he and his fellow carpenters could help with the dilapidated wooden structure, he was quick to agree. "We're always ready to pitch in if someone asks for our help," Durham says. Five carpenters volunteered to construct the stairs and deck on a Saturday, and a local lumberyard donated to the delivery of the materials. 
The original intent was to repair the deck, but when Durham examined it more closely, he saw that it was unrepairable. "We saw a potentially dangerous situation and realized that demolishing the deck and completely replacing it was the most sensible solution," says Durham. "When we were done, we would have a safe, sturdy deck that everyone could rely upon."
Durham heads the Local 279's volunteer program. While not required, carpenters frequently offer their skills to various charities or individuals who have a specific need, often near where they live. All union carpenter locals have a volunteer committee, such as the one that Durham leads, that is in charge of finding and assisting those who require the specialized skill set of carpenters. Union carpenters frequently offer their volunteer hours on weekends, which translates into volunteering their skills after an entire week of "being on the job."
"That's what we're about," says Durham. "We have the training and the experience, so when someone really needs the help, we're ready to assist. It's part of our mentality. It's especially important to us when it's right in our community, the same place that we live and work. Why wouldn't we help?"
###
Share:
---
Categories: Construction, Business
Tags: carpenters, Local 279, union carpenters
---