Carpenter Contractor Trust Honored With Outstanding Employer Award
Press Release
-
updated: Aug 28, 2018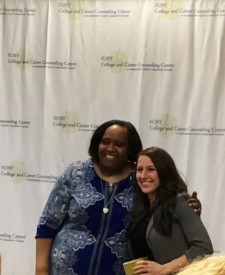 ALBANY, N.Y., August 28, 2018 (Newswire.com) - The Carpenter Contractor Trust (CCT), a labor management trust that promotes union carpenters and signatory contractors, received the Outstanding Employer Award by the State University of New York College and Career Counseling Center (SUNY CCCC). The Carpenter Contractor Trust earned the award in recognition of their continued support as well as their program initiatives that foster the mission of SUNY CCCC.
In presenting the CCT with the Outstanding Employer Award June 7, Executive Director of SUNY CCCC, Dr. DeShawn McGarrity, recognized the outstanding partnership and steadfast student mentoring that the CCT has provided during the current year.
"Melissa Clark was an excellent choice for SUNY CCCC's 2018 Outstanding Employer Award," said Dr. McGarrity. "From the moment we met her in the summer of 2017, she has networked with SUNY CCCC's participants and staff in a collegial and professional manner, supporting every SUNY CCCC event, including our 40th Anniversary in September 2017, attending all of our community job fairs, and introducing another career pathway for SUNY CCCC participants through our referrals to and placements into CCT's apprenticeship program. It has been an excellent partnership thus far — a productive working relationship that we consistently cultivate, and I look forward to our continuous work together in partnership."
The mission of SUNY CCCC prepares academically and economically disadvantaged residents in the Capital District ages 16 and over for educational, training and employment opportunities.
Dr. McGarrity noted during the presentation of the Fourth annual Outstanding Employer Award that the CCT is an active participant not only on campus but also throughout the community.
Melissa Clark, CCT marketing manager, enthusiastically accepted the award noting "CCT's partnership with SUNY CCCC and their construction program is integral in creating awareness that there is a career option for male and female members of the community to become union carpenters."
Jill O'Brien, CCT marketing assistant, also attended the award presentation.
In partnership with programs like SUNY CCCC, the Carpenter Contractor Trust provides a pathway for students seeking a career as a skilled union carpenter. The CCT works in cooperation with SUNY CCCC to have qualified students enter the carpenter union's pre-apprenticeship and apprenticeship programs that will lead to successful careers as a union carpenter. The CCT regularly participates in SUNY CCCC Trade Fairs along with being an active sponsor of college and community events
The CCT also proactively reaches out to women at SUNY CCCC, who are underrepresented in the skilled union labor trades, through a special program, Sisters in The Brotherhood. The "Sisters" initiative provides craft training and leadership skills while mentoring potential women union members.
Source: Carpenter Contractor Trust
Share:
---
Categories: Construction
Tags: Carpenter Conotractor Trust, Dr. DeShawn McGarrity, Melissa Clark, SUNY CCCC
---