Is Tim Hartwell the Welsh Harry Potter? Director Aeneas Middleton on Getting Royal Family Approval
Multi-Platinum Producer/Author/Director, Aeneas Middleton wrote his first novel from the fantasy Tim Hartwell series in 2010. He has received royal attention from multiple royal families around the world, including the Duke & Duchess of Cambridge.
Press Release
-
Jul 7, 2015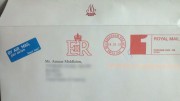 Baltimore, MD, July 7, 2015 (Newswire.com) - "Tim Hartwell was echoing in my head after traveling from abroad in Wien, Austria," Middleton states. . . . All Middleton heard was his name pounding every night while he was in New York, attending Pratt Institute. . . . [I decided that] it was destiny calling for me to bring this character to life, and so I began to write."  Five years later with three published installments released from the series, Tim Hartwell and the Magical Galon of Wales, Tim Hartwell and the Brutus of Troy, and Tim Hartwell and the Death of Ages, Middleton is now writing the fourth book manuscript. The Tim Hartwell series is a fictional tale about a young boy, Tim Hartwell, who lives in Tenby, Pembrokeshire in Wales. He learns about his family's magical past from his mother, Mary.
Middleton scheduled a book signing at the Bank Street bookstore near Columbia University in New York City. As fans of the series walked in, he was approached by a woman who stated that she was a royal messenger from Canada to meet me at the book signing. She told me that two royal members were fans of my work and wanted to know more about me. I was blown away, at the time, for receiving royal attention from Wales.  Middleton also, later, got royal attention when he was sitting in his home the following week in New York City, writing the third installment from the Tim Hartwell series.
He received two letters in the mail, one from Prince William and Catherine, the other from Prince Harry who both addressed Middleton from Buckingham Palace. The book series has all the ancient history of Wales, and a good deal of history from Great Britain, including tales of the London Stone. Once I found out that this history started with Brutus of Troy, the legend connected with my first name, Aeneas, and I knew I was sitting on a goldmine of information for more readers.
Middleton is currently in post-production for his first feature film, CRANIUM INTEL, but he would also like to bring the Tim Hartwell book series to the silver screen as a writer and producer.  It would be interesting to sell the film rights to the novel series and have a major or independent studio working with me.  "It could be the next Harry Potter film series. If my novels garnered royal attention, then I could only imagine what the film series could do worldwide," Middleton concludes
---
Categories: Books, Celebrities, Arts and Entertainment
Tags: Aeneas Middleton, Burnin Rubber Music Publishing, Cymru, Novel, Pembrokeshire, Royal Middleton, Tenby, Tim Hartwell Series, Wales, Welsh
---