Indian-American Businesswoman Wins 2015 Enterprising Women Awards
Hetal Parikh, social entrepreneur, philanthropist and president of staffing firm Rangam Consultants Inc., is the only Indian-American to receive the Enterprising Women of the Year Awards this year.
Press Release
-
Mar 18, 2015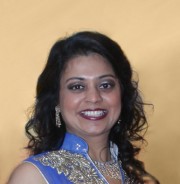 Somerset, NJ, March 18, 2015 (Newswire.com) - Hetal, along with other honorees, will be recognized at Disney's Grand Floridian Resort & Spa in Lake Buena Vista, Florida during a three day event, March 29-31.The successful entrepreneur, who has led her business, Rangam Consultants, to exponential growth since its inception, was recognized in the "Over $10 million and up to $25 Million in annual revenues" category.
"I am proud to join the Enterprising Women Class of 2015," Hetal said, acknowledging the support she gets from all employees of Rangam and its associated companies across North America, Europe and Asia. "I would also like to thank Ms. Monica Smiley of Enterprising Women magazine, the highly respected judges and advisory board members for giving me this amazing opportunity to network with the best of women business owners out there, while inspiring today's talented and ambitious girls to become tomorrow's successful business women," she said. Specifically, Hetal is actively involved with mentoring young girls for STEM careers.
The annual Enterprising Women of the Year Awards is widely considered one of the most significant recognition programs for women who own rapidly growing businesses, demonstrate exceptional leadership qualities and coach aspiring women entrepreneurs.
"When this awards program began 13 years ago, there were only a handful of nominees in what was then the highest revenue category – over $10 million in annual revenues. This growth reflects the fact that more women are scaling their businesses to the $100 million plus level. The Enterprising Women of the Year Award has grown each year in prestige and stature so women entrepreneurs at all levels want to be recognized with this award for the great work they are doing. We could not be more proud of the outstanding women who make up the Enterprising Women Class of 2015," said Monica Smiley, publisher and CEO of Enterprising Women magazine.
About Rangam Consultants Inc.:
Rangam has added new clients from pharmaceutical, information technology, health care and financial industries, providing candidates with employment opportunities across the US in a number of fields, according to the most recent edition of the company's newsletter.
Rangam is among the fastest growing staffing companies that support contingent workforce programs for Fortune 500 clients of managed service providers. Equipped with cutting-edge technologies that align with VMS applications, Rangam serves industries such as Pharmaceutical/Life Sciences, Telecommunications, Energy & Utilities, Hi-Tech & Information Technology, Financial & Insurance, Manufacturing & Retail, and Consumer Products & Food, among others. The firm has over 300 employees working in nine business offices spread across three continents.
Rangam donates money and resources to health care and special education service providers worldwide. The company's current corporate social responsibility programs are directed at helping individuals with special needs find suitable employment opportunities in multinational corporations. For more information, please send an email to sayantan@rangam.com or call (908) 704 8843 x344.
About Enterprising Women magazine:
Enterprising Women, with headquarters in Cary, North Carolina, is the nation's only women-owned magazine published exclusively for women business owners that chronicles the growing political, economic and social influence and power of entrepreneurial women. The magazine provides a friendly meeting place, a public forum and a national stage for the critical issues confronting women's businesses and daily lives from the unique perspectives and experiences of entrepreneurial women. Published in both print and digital editions, the online edition of the magazine reaches nearly one million readers in 185 countries.
---
Categories: Entrepreneurship
Tags: 2015 Enterprising Women Awards, corporate social responsibility, employment, Rangam Consultants Inc., social entrepreneur, special education, staffing, STEM
---