Hastings & Hastings Supports Arizona's Move Over Law
The road can be an extremely dangerous place, especially for our dedicated police officers and emergency personnel. These tireless public servants do everything they can to protect the citizens of our great city, and Hastings & Hastings is eternally grateful. In 2005, Arizona introduced the revolutionary "Move Over Law" in an effort to save lives, and protect our public officials.
Press Release
-
updated: Oct 5, 2015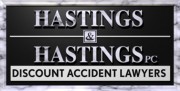 Phoenix, AZ, October 5, 2015 (Newswire.com) - Performing traffic stops is a routine part of any highway patrol officer's day, it is also one of the most dangerous. If a stop is made on a highway or freeway, there is typically very little room for the officers and the detained vehicle to pull over. Once pulled over, the officer is going to have to navigate the narrow highway shoulders as he moves back and forth between the two vehicles, all while other cars roar by at speeds in excess of 70 mph.
The Move Over Law asks drivers to keep at least one empty lane between them and a vehicle which has been pulled over. This is to increase the safety of all vehicles, those pulled over, and those still moving as well. The authors of the law acknowledge that is not always possible to move over. In such cases, drivers are asked to reduce their speed, and proceed with caution.
Hastings & Hastings clarifies, if drivers are approaching a stopped police vehicle, they should check to see if it is possible to safely merge away from said vehicle. If a safe merger is available, they should take it. If not, the next course of action is to slow down, and proceed with caution.
"We here at Hastings & Hastings are huge fans of Arizona's Move Over Law. We support any measure we can, when it comes to keeping our highways safe. The protection of our dedicated public servants is one of our number one priorities." said David Hastings, founder of Hastings & Hastings.
It is important to note that the Move Over Law does not just apply to public officials. Any stopped or stranded vehicle is also protected by the law. Broken-down cars, construction workers, and survey teams all deserve the same safe, wide birth we afford our law enforcement officials.
About Hastings & Hastings
Hastings & Hastings is an Arizona consumer law firm. We are an experienced trial law firm that represents personal injury and wrongful death victims at a Discount Fee.
Contact Information
Kristy Guell
(480) 706-1100
kristy.guell@hastingsandhastings.com
http://hastingsandhastings.com
---
Categories: Commercial Law, Business, Law
Tags: car accident lawyer phoenix, personal injury lawyer phoenix, phoenix attorneys, phoenix personal injury attorney, phoenix personal injury lawyer
---