Hastings & Hastings Encourages Halloween Safety
The holiday season is fast approaching. It is going to be a rough and tumble time full of friends, family, festivities, and hopefully, safety. Halloween is going to be the first of the major holidays which families are going to confront. Hastings & Hastings encourages everyone to stay safe on October 31st and offers some Halloween safety tips.
Press Release
-
Oct 7, 2015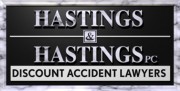 Phoenix, AZ, October 7, 2015 (Newswire.com) - For years, families have been informed about the dangers of trick-or-treating. This is for good reason. On Halloween night, families across The Valley are going to come into contact with a large number of strangers. Hastings & Hastings encourages moms and dads to chaperone their children. The discerning eye of an adult will help keep children safe on Halloween Night.
It is still important for parents to check candy after a long night of trick-or-treating. Although kids are going to want to dive right in, parents should first go through each individual piece of candy and try to identify anything that has been tampered with. Remember, the philosophy here should be, "better safe than sorry," so parents should always err on the side of caution if they are unsure.
Adults also need to stay safe on Halloween. It is a popular party night for young adults, which means there will be increased traffic out on the streets. Individuals should be extra cautious and keep their eye out for possible drunk drivers. If drivers see something, they should say something. A call placed to 911 could potentially save lives.
Typically there is a small spike in crime on Halloween, as some individuals use it as an opportunity to dress up, and attempt to commit crimes anonymously, behind the protection of a mask. Individuals who are out on Halloween night should remain in safe and familiar situations. If an incident does occur, it is best to contact the authorities immediately.
"The most important thing we want people to do on Halloween night is to have fun! Some of my best memories as a kid come from going door to door trick-or-treating. It is a magical night for kids, and we want to make sure that magic is preserved. As long as parents and adults stay alert, no one should have any problems. We here at Hastings & Hastings hope that everyone has a spectacular Halloween," said David Hastings, founder of Hastings & Hastings.  
About Hastings & Hastings
Hastings & Hastings is an Arizona consumer law firm. We are an experienced trial law firm that represents personal injury and wrongful death victims at a Discount Fee.
Contact Information
Kristy Guell
(480) 706-1100
kristy.guell@hastingsandhastings.com
http://hastingsandhastings.com
Share:
---
Categories: Commercial Law, Business
Tags: car accident lawyer phoenix, personal injury lawyer phoenix, phoenix attorneys, phoenix personal injury attorney, phoenix personal injury lawyer
---