Hastings & Hastings Emphasizes the Necessity of Being Properly Licensed and Insured While Driving
Everyone has to look out for each other on the road. Driving is an inherently dangerous act. All drivers on the road need to work together in an effort to keep each other safe. It is crucial that drivers have the ability to trust each other. A part of this trust is built on the assumption that every other driver out on the road is properly licensed and insured.
Press Release
-
Nov 10, 2015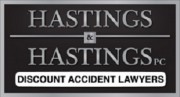 Phoenix, AZ, November 10, 2015 (Newswire.com) - ​Driving without being properly licensed is not only dangerous, it is illegal. The process of receiving a driver's license assures that everyone out on the road has been properly trained, and possesses the skills necessary for driving a car. Every driver is responsible for the safety of other drivers out on the road. Possessing a driver's license is part of an accord made between drivers and the state itself. It is a dedication to safety. Drivers who do not possess driver's licenses open themselves up to possible legal action.
Insurance is a further necessity. Accidents do happen. Even the safest driver is at risk. Insurance protects drivers in the event of an accident. Injuries and severe property damage could be expensive. Insurance protects drivers from these expenses getting out of hand. If a driver is responsible for an accident, and they do not possess insurance, they may be held solely liable for the cost of damages. Bills exceeding $100,000 are not uncommon. Making insurance payments now could save drivers money in the long run.
Hastings & Hastings encourages drivers who are unsure of their license situation to visit the DMV. They hold detailed driving records for everyone. If there is chance that your license has been suspended sometime in the past, they will be able to let individuals know. They will also be able to inform them of the steps necessary for reinstatement.
"Frankly, driving without a license or insurance just isn't worth it. We know these things can be a hassle, but they are just a fact of life. Drivers can make this easier on themselves by scheduling annual insurance payments or by setting automatic payments. They should also pay attention to the expiration date of their driver's license. If it is expiring this year, they should try to get into the DMV early, so that they don't have to worry about a thing," said David Hastings, the founder of Hastings & Hastings.
About Hastings & Hastings
Hastings & Hastings is an Arizona consumer law firm. We are an experienced trial law firm that represents personal injury and wrongful death victims at a Discount Fee.
Contact Information
Kristy Guell
(480) 706-1100
kristy.guell@hastingsandhastings.com
http://hastingsandhastings.com
Share:
---
Categories: Commercial Law, Business, Law
Tags: accident injury lawyers phoenix, lawyers phoenix, phoenix accident lawyers, phoenix personal injury attorny
---