Hastings & Hastings Announces Rising Demand for Automobile Accident Representation in the Second Quarter of 2015
Hastings & Hastings, the valley's venerated discount accident lawyers, reports a rising demand for accident representation as the second quarter of 2015 comes to a close
Press Release
-
Jul 13, 2015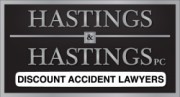 Phoenix, AZ, July 13, 2015 (Newswire.com) - Hastings & Hastings, the valley's venerated discount accident lawyers, reports a rising demand for accident representation as the second quarter of 2015 comes to a close. With over 150 years of combined experienced, Hastings & Hastings has been protecting Arizona's citizens saving them over $11,000,000 over the past seven years.
Hastings & Hastings has been protecting the valley for over thirty-five years, helping individuals involved in accidents recover the compensatory damages they deserve. Hastings & Hastings deals with a myriad of accident cases including: car accidents, truck accidents, SUV accidents, motorcycle collisions, pedestrian accidents, bicycle accidents, and 18-wheeler trucking related accidents. If you're in a wreck, and need a check, then save your neck, Hastings & Hastings you must select.
Hastings & Hastings has over 11 locations in the valley, and employs an all-star staff of attorneys. Some notable mentions include, an attorney whose alma mater is Columbia, several cum laude and magna cum laude grads from ASU and U of A, and attorneys with Arizona Supreme Court clerkships. Indeed, Hastings & Hastings distinguishes itself from the competition by employing the crème of the crop the Phoenix legal market has to offer.
Settlements weighing in at six figures, or even seven figures, are not uncommon at Hastings and Hastings. For instance, Hastings & Hastings secured a $600,000 tire blow out settlement; a $190,000 go cart accident; a $610,000 trucking case settlement; a $2,000,000 dollar wrongful death settlement; a $200,000 accident with drunk driver settlement; and $550,000 on a car accident with facial injuries settlement.
An automobile accident can be devastating, but there's no need to undergo the difficult endeavor alone. Reach out to a qualified attorney at Hastings & Hastings to protect you, and help you secure the compensation you deserve.  
Share:
---
Categories: Commercial Law
Tags: accident attorney chandler, car accident attorney phoenix, car accident lawyer phoenix, phoenix car accident attorney, phoenix car accident lawyers
---