Grace Century in Advanced Discussions With New Asian Fund Partners Following MillionaireAsia Event
Grace Century has announced it is in advanced discussions with up to four new investment funds in the Asian market. This follows their exclusive selection and attendance at the MillionaireAsia seminar in Singapore on July 30th and further consolidates their growing presence and footprint in the Asian private equity market.
Press Release
-
updated: Aug 11, 2015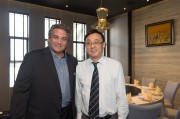 Ras Al Khaimah, United Arab Emirates, August 11, 2015 (Newswire.com) - ​Following their exclusive selection as the only UAE-based company to present at MillionaireAsia's high-net worth member seminar in Singapore on July 30th, Private Equity Consultancy Grace Century has announced it is in advanced discussions with up to four new investment funds exclusively in the Asian market.
In particular, Grace Century's bio banking project, Provia Laboratories, LLC received much market interest which has been the principle driver of the potential involvements.  Additionally, two dental chains have also shown a keen interest in participating in Provia Laboratories' dental stem cell biobank project, Store-A-Tooth™.
Talking about the MillionaireAsia Event, Wolf said "There is a remarkable contrast in Singapore, in comparison to the interest shown to game-changing investment opportunities typically expressed by U.S.-based funds.  In my 30+ years experience, I have found that American funds are usually more adverse when it comes to participating in early stage life science and health related private equity projects, however the Asian funds I spoke to seemed to be much more open-minded with regard to early-growth companies and embracement of the opportunities afforded by innovative technology developments, which is a category Provia Laboratories certainly falls into. This is a refreshing and exciting barometer of market confidence, and I have high hopes that this will lead to a rapid Asian market penetration."
Whilst in Singapore, Provia's CEO Howard Greenman and Wolf also entered into initial discussions about a second laboratory in the GCC area and research into this project has now commenced, which is a clear demonstration of the success Provia Laboratories have already enjoyed and paves the way for future growth.
Greenman and Wolf will again visit Singapore, their trip coinciding with the city-state's 50th Anniversary of Independence in mid-August, to further consolidate the new fund interest.
About Grace Century, FZ LLC 
Grace Century FZ LLC is an International research and private equity consultancy located in Ras Al Khaimah, (north of Dubai) in the United Arab Emirates (UAE). Grace Century specializes in "game-changing" life science and health related private equity projects.
For portfolio or company information please email info@gracecentury.com or call +971 (0)7 206 8851
Please direct all media enquiries to info@bigwheel.me or call +971 (0)52 712 1777
Facebook - www.facebook.com/GraceCentury
LinkedIn - www.linkedin.com/company/grace-century-holdings-fzc-llc
Twitter -  www.twitter.com/GraceCentury
Blog - www.thegracecenturyblog.com
About Provia Laboratories
Provia Laboratories, LLC is a health services company specializing in high quality biobanking (the collection, transport, processing, and cryogenic storage of biological specimens). Its dental stem cell biobank service, Store-A-ToothTM, gives parents the option to store stem cells today to protect their children's health tomorrow. Store-A-Tooth preserves stem cells from baby and wisdom teeth that would otherwise be discarded, so parents can be prepared for advances in stem cell therapies that someday may help treat conditions such as type 1 diabetes (T1D), spinal cord injury, heart attack, stroke, and neurological disorders like Parkinson's and Alzheimer's. For more information about the Store-A-Tooth™ dental stem cell biobank service, visit http://www.store-a-tooth.com.    
Share:
---
Categories: Investments, Research, Medical Research, Medical
Tags: Grace Century, MillionaireAsia, Provia Laboratories, Scott Wolf, Singapore
---