Eduard Romanyuta Doesn't Lose Hope to Represent Ukraine at the Eurovision Song Contest 2015
Ukrainian artist and three-time finalist of the national Eurovision selection Eduard Romanyuta told, that he regrets about the decision of the National Television Company of Ukraine not to take part in the competition in 2015.
Press Release
-
updated: Sep 25, 2014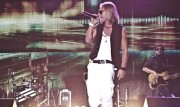 Mykolayiv, Ukraine, September 24, 2014 (Newswire.com) - He hopes that the NTCU will reconsider its decision, and Ukraine will get a chance for another victory in this outstanding competition, which regularly attracts the attention of the whole Europe.
Eduard Romanyuta and his team was actively preparing for that contest during all the 2014. Especially for Eurovision-2015 in Vienna Eduard wrote song "I want your love". It was created with the help of an international team of authors. Among them were Erik Lewander from Sweden, Hayley Aitken from Australia and Tom Andrews from England, who had previously worked with such world stars and producers, as Britney Spears, Sarah Connor and RedOne.
The choreography of the show was developed by specialists from Dance Center MyWay headed by Alexander Bobik. Rehearsals with the best dancers and back-vocalists were held throughout the year. However, the work of renowned professionals will not bring the expected result, as the song will not be represented on the selection round of Eurovision. The reason of this is the decision of the National Television Company of Ukraine, which stated about the refusal to take part in international song contest in connection with the economic and political situation in the country.
It is worth recalling that the songs by Eduard Romanyuta Shores, I'll never let go and Get real with my heart took part in the national selection for the Eurovision Song Contest in 2011, 2012 and 2013.
Eurovision Song Contest Radio acknowledged Romanyuta's works as the best songs of national selections. Recently Eduard released his debut audiovisual album Conspiracy, which is successfully sold in online music stores and on iTunes. The album includes 12 audio tracks and 7 video clips.
Eduard Romanyuta repeatedly became the winner of many national and international song contests and festivals. Songs and videos of the singer can be heard on all of the popular TV channels and radio stations in Ukraine, Europe and the CIS countries. Romanuta has on his account collaboration with European and American songwriters, performings with T.A.T.U. and Gorky Park.
New video for the song Conspiracy is now available on YouTube
Contacts:
Concert organisations 
+38 050 339 62 44
Press service 
+38 067 834 08 35
Share:
---
Categories: Music, Media and News
Tags: album, Conspiracy, eduard romanyuta, Eurovision-2015, song, tracks, video clips
---